Mnqobi Duphelezi (17) from Mtubatuba, KwaZulu-Natal has beat the odds and managed to get five distinctions in his matric year.
From the age of 15, Duphelezi moved out of home to stay by himself so that he could be close to a better school called Nondumiso High situated in Hlambanyathi which is about 61 kilometres from his hometown.
 "There were no nearby high schools in my village, so I decided to move closer to Nondumiso High School by renting a room in Hlambanyathi so that I could study at night and attend morning classes," says Duphelezi.
He says his parents supported him by paying his monthly rent, groceries and other school items through the child support grant that they receive from the Department of Social Development.
Duphelezi attributes his success to his teachers who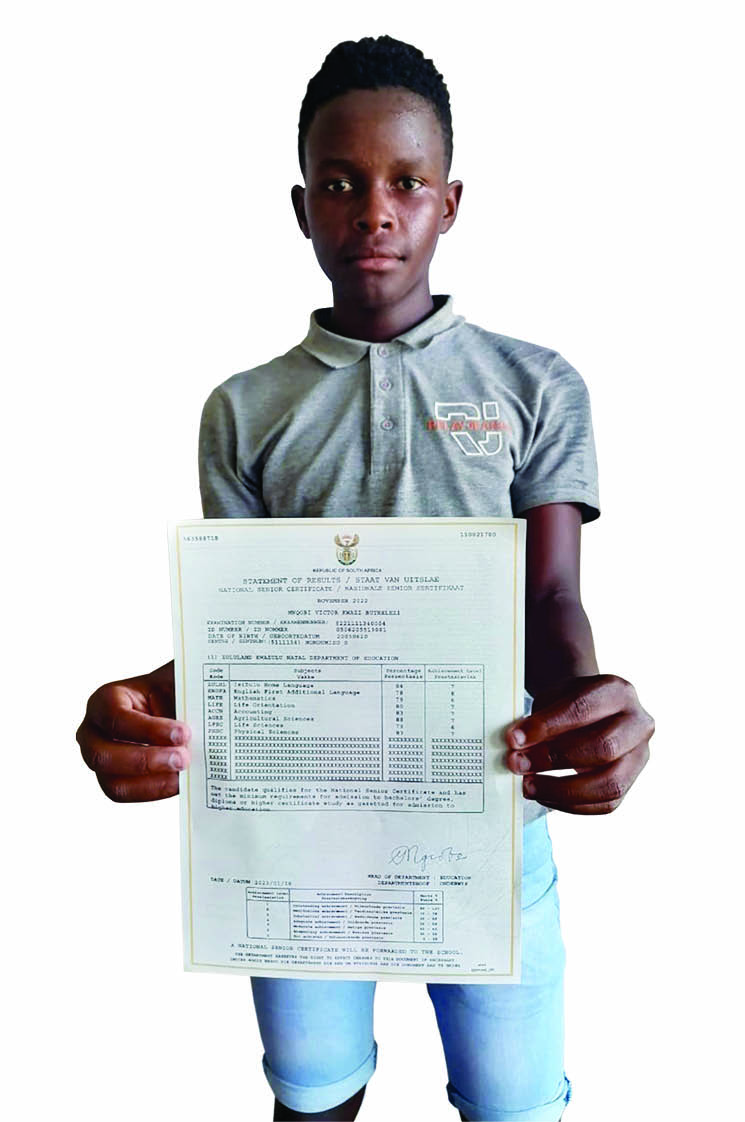 were a strong support system from grade 10.
"The teachers did all they could to support us, the rest was left to us to study as much as we could. I wasted no time, once the teacher was done with the lesson, I would open my books and read what we were taught," says Duphelezi.
Completing matric came with feelings of self-doubt for Duphelezi.
"I did not think I was going to do well in my matric year. I did not even apply for Pharmaceutical studies which are my dream because of the stress and anxiety I felt."
Duphelezi says he opted for applying for Mechanical Engineering at the University of Kwa-Zulu Natal as his first choice because this course required lower requirements as compared to Pharmaceutical studies. "I was so surprised that I received five distinctions," Duphelezi added that his application for funding by the National Student Fund Aid Scheme (NSFAS) has also been approved.
NSFAS provides financial assistance to qualifying students by paying for tuition fees, accommodation, study material and a monthly stipend.
Duphelezi advises the class of 2023 to focus on their studies to achieve their desired results which will help them to follow their dream careers.
He also encouraged those who did not pass Grade 12 to learn from their experiences and work hard.
• Learners who are struggling to be accepted at a higher education institution can sign up for the Central Application Clearing House (CACH) service which will close on 31 March. For more information visit
www.cach.ac.za
, WhatsApp
078 776 8660
or call
0860 690 722
• If you could not meet the pass requirements of the National Senior Certificate examinations, you can register with the Department of Basic Education for the Second Chance Matric Programme.
If you were part of the matric class of 2022 and did not receive the results that you anticipated, the South African Depression and Anxiety Group (SADAG) says it's okay if things didn't go as planned.
"This is not the end, no journey to success is an easy straight line." It's also important to speak to friends and family members for support and understanding of what you are going through," said SADAG Clinical Psychologist Ryan Cooper.
SADAG also advised 2022 matriculants to talk to a trusted friend, teacher, or parent if they did not receive the results they anticipated.
"It's a support structure that gets us through life. The more support structure you have, the more you can deal with devastating news or disappointments," said SADAG Educational Psychologist Dr Elzette Fritz.
According to SADAG, those who did not pass grade 12 should ask themselves what options are available to them.
"There are always options. This can decrease the worries that can be amplified to anxiety," said Dr Fritz.
SADAG also encouraged parents to empathise with their children who did not receive positive matric results.
"Try to put yourself in their shoes and imagine how they may be feeling. Ask them if there is anything you can do to help," said SADAG.