Written by Kgaogelo Letsebe
Traditional African medicine has earned its rightful place in modern healthcare and should be afforded the same respect as other health disciplines.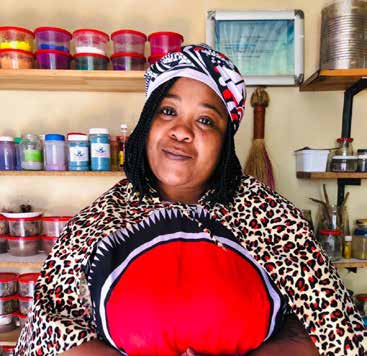 This is according to traditional health practitioner Bontle Moatlhudi, also known as Gogo Nkanyezi, who has been a healer for four years.
"The use of African traditional medicine is holistic, in the sense that it involves the use of indigenous herbs and large aspects of African spirituality," explains Moatlhudi.
"In recent years, we have seen strides being made in including traditional medicine in the health practice. We have indigenous herbs such as lengana, mosetlha and serokolo which are now packaged and available to purchase over the counter at conventional pharmacies," she adds.
Moatlhudi says the public has, in recent years, shown a level of comfort using traditional medication.
"Of course, this comes with its fair share of responsibilities. The practitioner responsible for dispensing must be initiated, trained and knowledgeable in traditional medicine. One cannot dish out medicine without the proper knowledge."
She adds that it is also important to acknowledge any other ailments, such as diabetes and/or hypertension, before using traditional medication.
"As with western medication, our medication is meant to heal not harm," says Moatlhudi.
About 80% of Africa's population relies on traditional medicine for their basic health needs.
"In some cases traditional medicine is the only healthcare service available, accessible and affordable to many people on the continent.
"The significant contribution of traditional medicine as a major provider of healthcare services in Africa cannot be underestimated," said the Department of Health in a statement.
Government has committed to including several types of traditional healthcare practitioners, who can be broadly categorised as diviners, herbalists, faith healers and traditional birth attendants, in official services.
"These practitioners are separated by the methods they use to diagnose and treat their patients. They also employ a number of different traditional formularies," the department added.
The Council for Scientific and Industrial Research has also started collaborating with traditional health practitioners to develop safe and standardised traditional medicines which can be sold.
"Traditional and western medicine can work together for the betterment of our people.
"We all contribute a wealth of knowledge to each discipline and, in so doing, can save the world from many ailments," says Moatlhudi.