South Africa kick-started its first phase of the vaccination rollout programme using the Johnson & Johnson vaccine recently.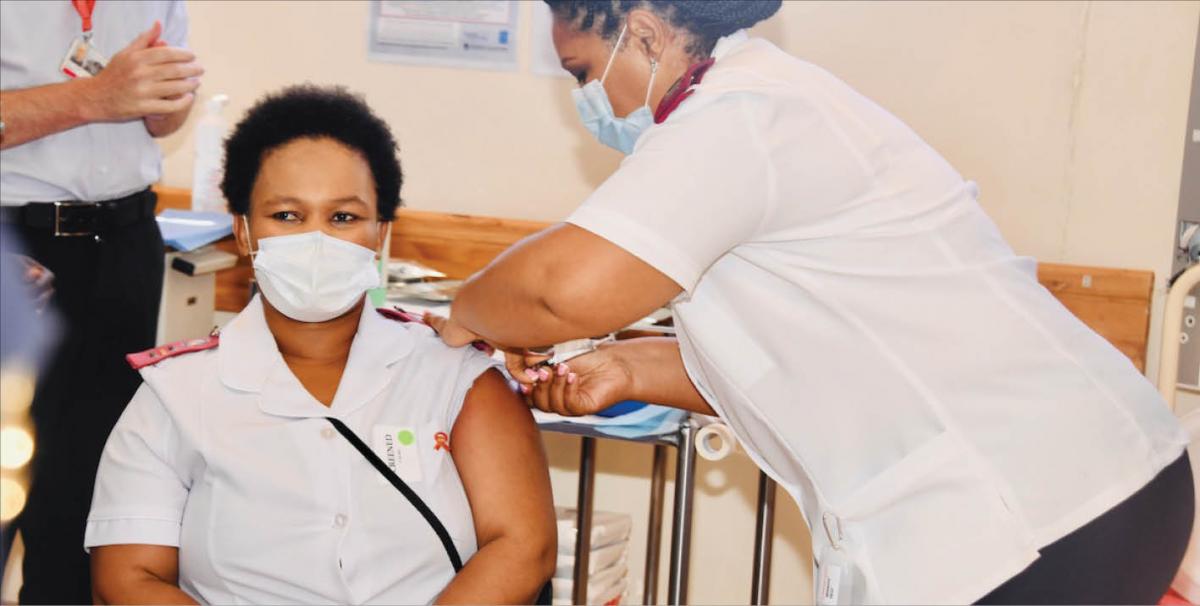 The first group of healthcare workers lined-up to receive a shot of the
80 0000 Johnson & Johnson vaccines that arrived in South Africa, which the department has described as a success.
The Health Department answers some of the burning questions about who will get it first; why it is a good choice for the country; why pregnant woman cannot get the shot and how effective it is?
Why is the Johnson & Johnson vaccine a good first choice for the National Vaccination Programme?
It was tested in a large trial of almost 44 000 people from four continents, of whom 7 000 participants came from South Africa.
The study also provided a good picture of how the vaccine works against the new 501Y.V2 variant. The South African trial showed that while the Johnson & Johnson vaccine is not going to prevent mild symptoms, it provides 57% protection against moderate-severe disease, 85% protection against severe disease and 100% protection against death.
How does the vaccine protect you against COVID-19?
When injected, the vaccine trains your immune system to fight the virus that causes COVID-19. The vaccine does not contain the Coronavirus and will not give you COVID-19.
Some mild side effects include tenderness at the injection site, feeling unwell, fever and a headache for a few days, and these are positive signs that the body is mounting an immune response to the Coronavirus. When you encounter real Coronavirus particles in future, your immune system will be able to disarm the virus so that you either do not fall ill at all or if you do, the symptoms are mild and your chances of being hospitalised or dying are much lower.
How is the vaccine given and when does protection start?
The vaccine is given as a single dose to the upper arm. Protection starts around 10 to 14 days after vaccination and even as early as seven days for severe disease and can also rise to good levels around a month after vaccination.
It is currently the only vaccine available that uses a single dose, while others require two shots.
No vaccine provides 100% protection. However, the jab is said to provide 57% protection against moderate-severe disease, 85% protection against severe disease, and 100% protection against death.
I am a health worker. How can I access the programme?
The first step to accessing a vaccine is to register on the country's Electronic Vaccination Data System (EVDS). You can access the system by visiting the website: https://vaccine.enroll.health.gov.za. 
In general, patient-facing health workers will receive priority access to vaccines. Non-clinical staff and traditional healers are also eligible to register on the EVDS.
You will receive an SMS alert with a vaccination voucher and details on which vaccination centre to attend and when. You will also be asked to read an information sheet and provide advanced consent for vaccination before your visit. On the day of your vaccination, you will need to arrive with your voucher and an identity document.
Are there any reasons why pregnant women will not be able to access the programme?
The vaccine is unavailable to pregnant women during this initial stage, which is a common practice when vaccines are not yet fully licensed, such as during clinical trials.
Access to COVID-19 vaccination for pregnant women is likely to be made available in the coming months. However, the vaccine can be safely used in breastfeeding women.
Why do I need to sign consent for the vaccine?
Consent to be vaccinated against COVID-19 is being sought in most national vaccination campaigns around the world. This is common when vaccines are provided under Emergency Use Authorisation mechanisms. You will also be asked to provide consent for the Johnson & Johnson vaccine as part of the early access arrangement through the Sisonke programme.
The information has been loaded on the EVDS and you will need to read it and agree to receive it before you attend your vaccination visit. Staff will also recheck this with you to attend your vaccination.
It also includes consent to access your medical records to monitor any future episodes of COVID-19 or hospitalisations.
This information will include where appropriate, your ID number, name, date of birth, postcode and contact details.- SAnews.gov.za.