WOMENS MONTH
An Eastern Cape female farmer is making huge strides in the agricultural sector and hopes to inspire other youth and women to follow in her footsteps.
Nosipho Vuthela's passion for farming started years ago, when she and family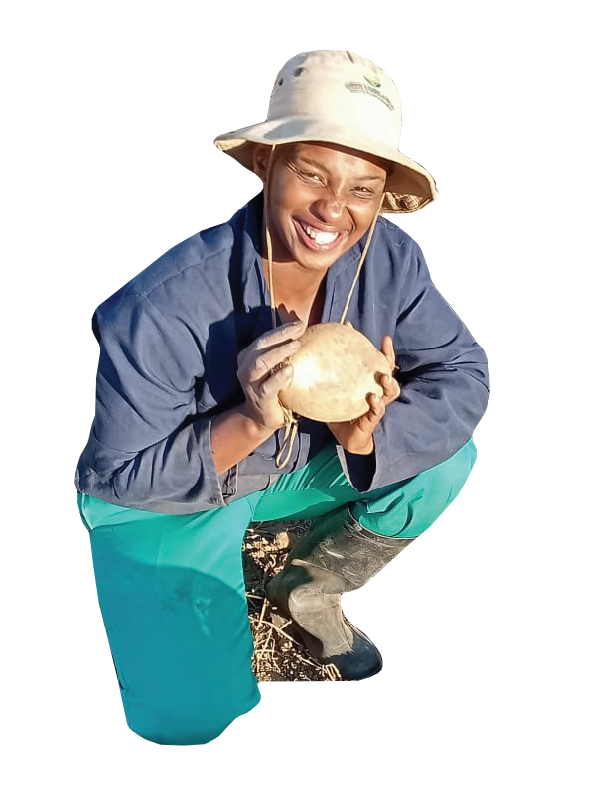 members were involved in informal farming, growing crops and raising livestock.
The 26-year-old from Mount Fletcher in Eastern Cape, is now turning her passion into a career.
When doing Grade 12, she already knew that she was going to be a farmer and went on to graduate from Fort Cox Agriculture and Forestry Training Institute.
After completing a Diploma in Agriculture in 2019, Vuthela and other local youth decided to form Gedlumhlanga Youth Cooperative and Farmers.
Today, the cooperative leases 252 hectares of land from the local Maqhubeni Tribal Council. It grows yellow maize, dry beans, sunflowers, potatoes, red onion, cabbage, spinach, broccoli and butternut, and is also involved in livestock farming.
Vuthela, who is the chairperson of the cooperative, said the produce is sold to local supermarkets, informal traders, schools, hospitals, hotels and bed-and-breakfast establishments.
She is also the Chief Executive Officer of Bright Rainbow Enterprise, a business that specialises in poultry production, feed, agricultural seminars on medicinal plants, and mentoring students and emerging farmers.
In addition, Vuthela is the African Farmers' Association of South Africa (AFASA) chairperson for the commodity of vegetables in the Eastern Cape. AFASA works with government to unite provincial farmers for growth purposes and helps connect them with markets and funders.
Opportunities and support
Vuthela encouraged more youth and women to get involved in agriculture.
She said there are many opportunities available in the agricultural sector and there is a lot of support from both the public and private sector.
Gedlumhlaba Youth Cooperative and Farmers has benefited from this support. It received inputs and equipment from the Eastern Cape Development Corporation, Imvaba Fund, Eastern Cape Department of Rural Development and Agrarian Reform, Africa Seeds, Department of Agriculture, Land Reform and Rural Development, Elundini Municipality and Small Enterprise Development Agency.
"All the stakeholders who assisted us played a vital role in the growth of our cooperative [because] in farming you work with time and if you lose time, you lose harvest. We do not hire much equipment for our production due to the assistance we received."
Job creation
The cooperative is also creating jobs for community members. It currently employs 23 seasonal workers, who also receive skills training to help them start backyard farming.
To meet increasing demand, Vuthela said the cooperative needs to buy a truck to transport more produce.
"We also need a potato washer system, cooling storage, silos, a seed planter, structures for trainees' accommodation and fencing."
In recognition of the good work being done by the cooperative, it was named Best Hustler for Agriculture in Green Farming at the Eastern Cape Hustlers Awards 2023.
The awards recognise individuals who have achieved success through hard work and determination.
"We work very hard because food security, the creation of jobs and rural development are our priorities. I believe agriculture is the backbone of our country as the value of food is increasing every day," she added.
Vuthela said it is important to stay positive and be patient if you want to succeed in the  agricultural sector.
"Positivity in agriculture results in loving your farming; being humble results in respecting your farming; patience results in success; knowing what you want results in hard work and hard work pays off," she said.
Vuthela said she is motivated to succeed because she knows that her success benefits those around her.
"What motivates me is the love I have for my field. I am passionate about it because I become a helper and feed my people with what I produce," she concluded.  
The Eastern Cape Department of Rural Development and Agrarian Reform can be reached on www.drdar.gov.za. For more information about the Small Enterprise Development Agency visit www.seda.org.za. The Imvaba fund can be contacted on www.ecdc.co.za/imvabafund. Find Gedlumhlanga on facebook @Gedlumhlanga Youth Co OP and farmers.