The large amounts of money that government has spent on stadiums and other infrastructure for the 2010 World Cup, is paying off for all South Africans. To thank us for our contributions, we will get tickets at a reduced price. 
Exchange rate
World Cup tickets are usually sold in American dollars to people from all over the world. This means when the tickets become available, the price is worked out in terms of what the rand is worth compared to the dollar. For example, if the dollar rises to twenty rands to one rand, tickets will be very expensive. But this will not apply to South Africans. For us, the tickets will be sold at a fixed exchange rate of R7 to one dollar. Even if the value of the dollar rises, South Africans are protected by the fixed rate of R7 to the dollar. This means we will be able to buy tickets for R140. It will give every South African a chance to be part of this great event. 
However, tickets for the opening match will be set at R500. 
Nation builders
In addition, about 120 000 tickets will be set aside to be given to "nation-builders". They will include people who are involved in building stadiums and roads for the World Cup. 
Start saving
From the middle of January next year, about 2 million tickets for all 64 World Cup matches will be made available for sale to the general public. 
The festive season is around the corner and many people will be getting end-of-year bonuses. If you are one of the lucky ones who will get a bonus and you want to attend some of the matches, why not set aside a bit of your bonus money to buy tickets. 
But even if you don't get a bonus, you can start saving some money now for your tickets. 
The World Cup is the biggest soccer event in the world. For the first time ever it will be held on African soil. So don't miss out on being part of history.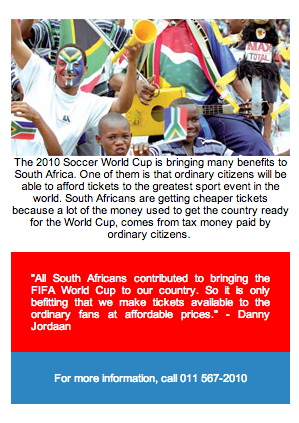 - Muzi Mkhwanazi