Many children, for a whole variety of reasons, are left orphaned. Many parents die due to illness or accidents. In some cases parents abandon their children because they are too poor or too sick to look after them. 
Whatever the reasons, more and more children are left helpless and alone, or end up in children's homes. 
A loving home
Several organisations that care for orphaned children struggle to keep going due to limited funds. One way of lending a hand is by adopting a child. 
If you want to adopt a child, you will have to take some important steps before the adoption will be lawful. First, you must get help from a social worker or an adoption agency. 
Background
Before making a recommendation to the Commissioner of Child Welfare about your application to adopt, the social worker must look into your background and conditions at your home. This is to make sure you are able to care for the child in a loving environment. 
You must be able to meet the child's basic needs like shelter, food, medical care and education. 
Agreement
The social worker must also look at the child's position. For example, has the child been abandoned or abused by his or her natural parents, or have the parents died? 
If the child's parents are still alive and can be found, they must agree to the adoption. A spoken agreement from the parents is not enough. It must be a written agreement and the Commissioner of Child Welfare must approve the agreement. 
If the Children's Court finds the child can be adopted, an adoption order will be made out. This means you may lawfully adopt the child.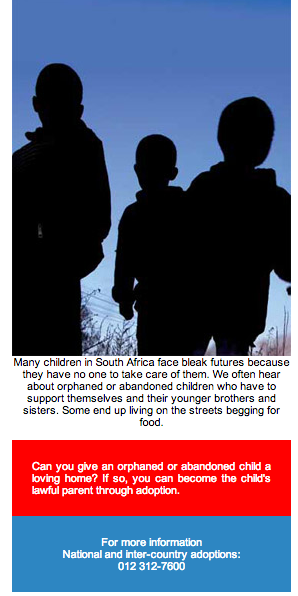 - Muzi Mkhwanazi