Going for an interview is a very important step towards getting a job. But it can be a stressful experience. So how do you put your best foot forward when you are inexperienced and nervous? 
There is help in the form of Job Preparedness Workshops offered by the Umsobomvu Youth Fund. Attending a workshop can boost your chances of getting that dream job. The workshops are held in all nine provinces. 
What will I learn?
The workshops will teach you how to convince the employer that you are the right person for the job. This includes:
writing your curriculum vitae (CV);
how to look for the right job;
evaluating yourself, which means getting to know yourself and the skills you have, as well as the kind of jobs that you will be able to do successfully;
preparing for the interview, including steps to follow before and during an interview, what to expect and how to answer tough questions;
having a professional image, including dressing and acting professionally.
Who qualifies?
The Job Preparedness Workshops are not only open to learners who have passed their matric. Other unemployed people, including unemployed graduates, may also apply. 
If you are a male, you have to be between 18 and 35 years old. Women of all ages may apply. 
Database
Looking for a job can be expensive because you have to pay for postage stamps and for photocopying of certificates and CVs. To help you keep the costs of job hunting down, you can submit your CV through the Internet on the Umsobomvu youth job database. 
Through the database you will be connected to job opportunities in the public and private sectors. This will help you get in touch with people who might offer you a job, or with learnerships or internship programmes. 
Rural people
Disabled people in rural areas still face many problems. These include difficulty in getting skills and jobs. In addition, public transport systems in rural areas do not have facilities for disabled people. 
For many of them, taxis are the only available form of public transport. The summit therefore called for suggestions to make taxis more accessible.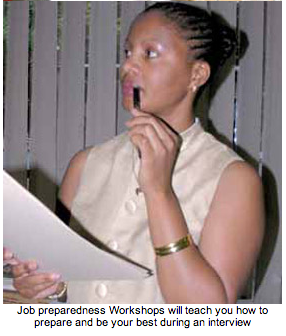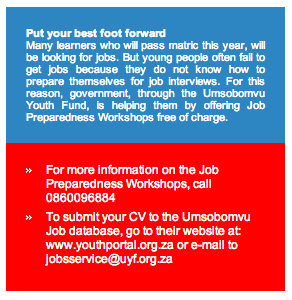 - Muzi Mkhwanazi