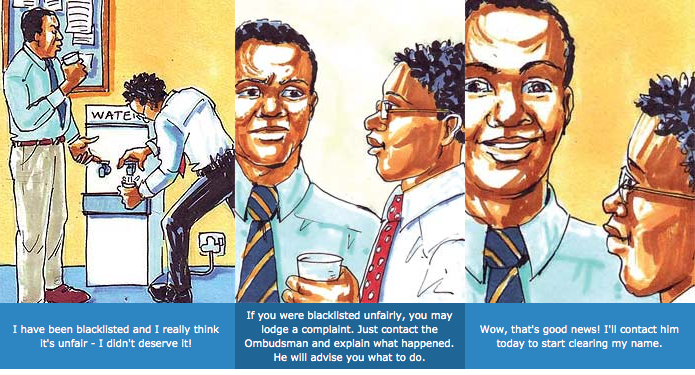 "Try to pay all your accounts on time. Make arrangements if you can't."
Thendo worked for a company that was not registered to do business. He was also not registered. He bought a bed at a furniture shop on hire purchase (paying off monthly instalments with high interest). Before he could finish paying his monthly instalments, his employer disappeared before paying him. He explained his situation to the shop owner where he bought the bed. He asked to be allowed to continue his payments as soon as he got another job. But the shop had already reported him to the credit bureau and he was blacklisted.
Failing to pay
After some time, he got another job and paid up the account. When he wanted to buy a car through the bank, his application failed. He was told that he was blacklisted for failing to pay the bed. The furniture shop said there was nothing they could do even if he had paid his bed in full.
Credit profile
Many people have a problem similar to Thendo's. But there is help, says the Credit Information Ombudsman. Thendo was advised to do the following: Firstly, he had to find out what kind of blacklisting he got. Was it 'default' or 'judgment' as explained in the May issue of Vuk'uzenzele. He wanted to apply for an early removal of the blacklisting and contacted the Ombudsman's office. He was asked to explain why he was blacklisted unfairly and had to lodge a complaint.
How to lodge a complaint
Contact the Credit Bureau that blacklisted you and get a copy of your report to see the nature of the listing (you pay R25).
Lodge a complaint with the Credit Bureau. They will give you a reference number.
Wait for a month for the Credit Bureau to resolve the complaint.
If you are not helped after 30 days, call 0861662837 (Ombudsman) and submit a complaint with the reference number you were given by the Credit Bureau.
The Ombudsman will then investigate the matter.
Don't forget
Do not buy on credit if you cannot afford to pay every month.
Try to pay all your accounts on time. Make arrangements if you can't.
If you move, give your new address to everyone that sends you accounts to ensure you receive them.
- Ndivhuwo Khangale