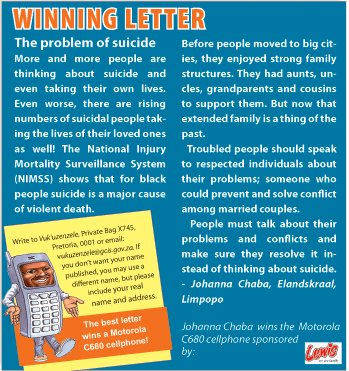 More practical education
I am one of those who finished school in a township government school with great hopes of pursuing a tertiary education and getting a good job, but I was disappointed. All my friends who went to private schools are now working.
My concern is government schools don't teach us how to survive and job-search after matric. They teach us book education, while at private schools they learn practical education.
South Africa is full of bursaries and study loans, but they are not in the spotlight for us township learners to access them.
It's easy to finish matric, but to get government assistance is difficult. Why can't government  establish government study grants for the poor? - Thokozani Petrus Sithebe
Mhluzi Township, Mpumalanga
Reply from the Department of Education:
Government established the National Student Financial Aid Scheme (NSFAS) through which students can access funds. For 2006, over R1,3 billion has been made available for loans and bursaries. Qualifying students can apply for these funds at the Student Financial Aid Office of the institution where they are registering, or call 021 793 3200; fax 021 797 8416 for more information.  Regarding job opportunities, Higher Education South Africa and the Department of Education have jointly published a booklet for Grade 9 with information on careers after matric. Umsobomvu Youth Fund and the National Youth Commission can also be contacted about opportunities for young people. (Phone 1020 for details). Government is committed to improving schools in disadvantaged areas.
What a shame
Our government says: "embrace disability with dignity," but I found that there's nothing like that in our communities, in the streets, in our churches, schools and towns. "Nothing about us, without us" is the slogan of disabled people in South Africa and our government is very familiar with it. What a shame Stutterheim! In our streets there's nothing for people with disabilities, e.g. ramps and parking. Also our taxi rank, which is a public place, is not accessible. I am very worried about this. - Mlungisi Diko, Stutterheim, Eastern Cape
TV is a monster
I'm sorry to say this, but TV is a monster. It shows us exactly the way things are and then we don't have time or a chance to think about things with our own minds. But the worst part of it is that it attracts us so that we find ourselves keeping on postponing everything that needs to be done. - Alfred Tebatso Mahapa, Sebokeng, Gauteng
Be wise, condomise
I know some will say "stop singing that song", we have heard it many times before." But believe me, I will never stop this call, for I have heavy-weight passion for people.
It is a fact that HIV and Aids is here to stay. For this reason it is wise to use condoms, no matter how boring it might be. We must never stop reminding ourselves and those around us that HIV and Aids is a reality.  - Zokwana Papikie (Mogoto), Koringpunt, Limpopo 
Thumbs up to them!
This is really something I would like to bring to people's attention. Everytime there is an emergency, the first thing we do is call the police, fire brigade or paramedics. These people often go the extra mile to save those in dangerous situations. Their jobs have a lot of stress, their shifts are long, and they often have to work overtime. So, let's make sure we show them some appreciation. -  Z.V. Mjana,  Mdantsane, Eastern Cape 
Reach out and touch...
My spirits were low and I suffered from migraine and kidney problems. Then a sister from the church invited me to the hospital to help the sick. I started going quite often. There are two girls, aged nine and ten, who have touched our hearts. They look forward to our visits every Thursday. We give them fruit and biscuits, pray and laugh together.
When I leave the hospital, I have such a feeling of peace and contentment, as if a load has been taken off my shoulders. My own aches and pains seem to disappear. Instead of complaining I would rather reach out to people worse off than me. It really makes me feel good. - S. Muthoo, Umzinto,
You must work hard
I am a young mother with one child and recently started two small businesses selling food to the community. My first business is planting vegetables, like spinach, beetroot, beans, etc in my front yard and sel-ling them to spaza shops and other big shops in my area.
The other business is to make food plates for teachers because I realised there was a need. I deliver food to four big schools and to the clinics for nurses. Both businesses are doing well and I can eat and help my family to survive.
I just wanted to say: ladies, you must stand up and do it for yourselves. Money won't come and knock at your door. You have to go and knock for the money.
- Palesa Maputle, Theunissen, Free State