YOUR BABY'S HEALTH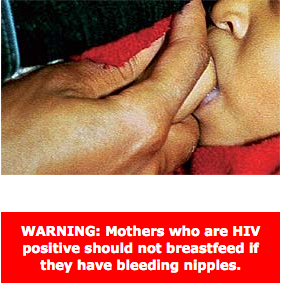 HIV MOMS CAN BREAST-FEED ...BUT DON'T MIX BREAST WITH POWDERED MILK
Mothers living with HIV can safely breast-feed their babies for the first six months of the baby's life. Phuti Seloba from Limpopo Health and Social Services said breast-milk remained the best food for the healthy growth and development of all babies. "We must try by all means to protect women from dangerous statements that say powdered milk for babies is the only option for HIV positive mothers," he said.
World Breast-feeding Week
Seloba said it was true that it's safe for women living with HIV to breast-feed for up to six months. After six months they could start giving powdered milk made specially for babies. It is advised that mothers who do not have HIV should breastfeed their babies until they are two years old to keep them healthy, he said.
Mixed feeding
Professor of children's medicine at the University of KwaZulu-Natal, Anna Coutsoudis, did a study on HIV and breast-feeding. She found that it was safe for HIV positive mothers to breast-feed their children for up to six months, as long as they didn't combine this with powdered milk. Mixed feeding brings things into the baby's body that can cause irritation or allergies. This also makes it easier for the HI virus to pass from mother to child, explained Professor Coutsoudis. She said the risk of HIV being passed on to babies was even less if they were fed only on breast milk until three months.
- BuaNews