Livestock farmers in Mpumalanga received a boost when the provincial Department of Agriculture, Rural Development and Land Administration loaned them cattle.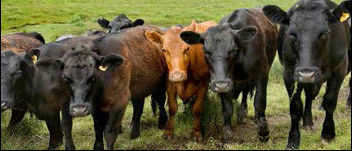 MEC Violet Siwela handed over 30 pregnant Nguni heifers and one bull to the Nhlapho Livestock Project in Machadodorp as part of the department's Masibuyele Esibayeni (back to the kraal) programme.
She urged the emerging livestock farmers to make good use of the cattle they received.
"Please take good care of the cattle so that they can multiply. By doing so, you will be able to return the loan…When we come back to the farm, we must find more cattle because livestock is not like a car; it does not depreciate annually but multiplies because the bull is here," said MEC Siwela.
The Masibuyele Esibayeni Nguni cattle programme was introduced in 2011 by the department, in partnership with the Industrial Development Corporation (IDC) and the University of Limpopo. The aim of the project is to improve food security, community upliftment and address the shortage of good quality breeding animals in the province.
MEC Siwela said the programme also addressed agrarian reform as part of government's Zero Hunger Strategy.
Nhlapo Livestock Project chairman Ara Nhlapo said livestock farming was his childhood dream that came true.
"I have always seen myself as a livestock farmer. When I was a boy, I enjoyed being a herd boy and today I am very thankful that we are part of this programme. We can assure the department that next time they visit us, there will be no space in the kraal because the cattle would have multiplied," said Nhlapo.
The department's project manager, Theo Ngemtu, said the programme loaned cattle to farmers for three years or five years.
"Those who apply for small stock have three years to return the loan and those who apply for large stock have five years to return the loan," he explained.
For farmers to participate in the programme they should have at least 150 hectares of land or at most 350 hectares available to accommodate livestock numbers at the recommended rate.
Ngemtu said the department also provided the farmers with skills and trains them in the use of natural resources.
"We strongly believe that with the support that they receive from veterinarians and other role players, the farmers will achieve their dream of becoming commercial farmers," he added.