Youth matters
Young people in South Africa have a number of avenues available to them to gain skills, start businesses and better their lives.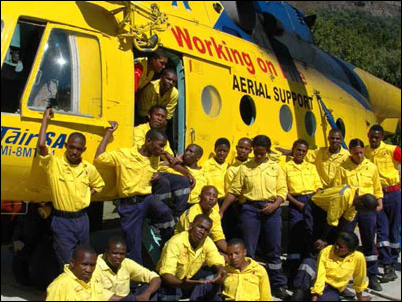 Government led initiatives such as Sector Training and Education Authorities (SETAs), the National Youth Development Agency (NYDA), the Expanded Public Works Programme and the National Rural Youth Service Corps (NARYSEC) are all aimed at opening doors of opportunity for the country's youth.
Working for Water
Working for Water (WfW) is an Expanded Public Works Programme that provides training for youth in the environmental sector. The project sees over 20 000 youth clearing invasive alien plants across the country each year. WfW runs over 300 projects in all nine provinces. For more information contact WfW on 021 441 2700 or 0800 005 376.
Working on Fire
Working on Fire (WoF) is part of government's initiatives to create jobs and to alleviate poverty. The project employs more than 5 000 young men and women who have been fully trained as veld and forest fire fighters and are stationed in more than 200 teams throughout South Africa. WoF teaches fire prevention and control of wild land fires. For more information contact WoF on 013 741 6400.
NYDA
The NYDA offers a number of programmes that provide funding, business support, training workshops, scholarships and grants to young people. For information of any of these programmes, contact the NYDA call centre on 0800 52 52 52 or visit your nearest NYDA branch.
NARYSEC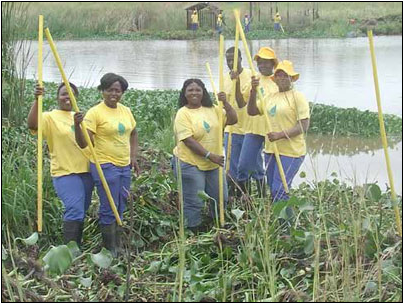 NARYSEC is a service established by the Department of Rural Development and Land Reform aimed at recruiting and developing rural youth to perform community service in their communities. For more information on NARYSEC, contact the national coordinator Nonala Buthelezi 012 312 8151 or visit www.dla.gov.za
SETAs
SETAs are training bodies that provide young job seekers with practical training and prepares them for the world of work. SETAs were set up to narrow the gap between available skills and the job market. Each year thousands of young graduates seek employment and more than 50 per cent of Grade 12 learners leave schools without basic employment skills.
To address the huge skills gap facing the country and to improve skills development, in March 2000 the then Minister of Labour Membathisi Mdladlana formerly established 23 SETAs.
Each SETA has its own clearly defined sector and sub-sectors. The SETAs are also very involved with learnerships, internships, skills programmes and apprenticeships.
One of the primary objectives of SETAs is to collect skills levies from employers in each sector, in terms of the Skills Development Levies Act, and make the money available for education and training in that sector.
These funds are allocated to employers, training bodies and learners, in the form of optional grants and bursaries.
FASSET
Financial and Accounting Services Sector Education and Training Authority.
tel: 011 476 8570, fax: 011 476 5756, www.fasset.org.za
BANKSETA
Banking Sector Education and Training Authority.
tel: 011 805 9661, fax: 011 805 8348, www.bankseta.org.za
CHIETA
Chemical Industries Education and Training Authority.
tel: 011 726 4026, fax: 011 726 2425, www.chieta.org.za
FP & M SETA
Fibre Processing Manufacturing Sector Education and Training Authority.
tel: 011 234 2311, fax: 011 234 2350, www.fpmseta.org.za
CETA
Construction Education and Training Authority.
tel: 011 265 5900, fax: 011 265 5924/5, www.ceta.org.za
ETDP
Education, Training and Development Practices.
tel: 011 372 3300, 0866 048 934, www.etdpseta.org.za
EWSETA
Energy Sector Education and Training Authority.
tel: 011 689 5320, fax: 011 689 5340/5341, www.eseta.org.za
FOODBEV
Food and Beverages Manufacturing Industry Sector Education and Training Authority.
tel: 011 253 7300, fax: 011 253 7333, www.foodbev.co.za
HWSETA
Health and Welfare Sector Education and Training Authority.
tel: 011 607 6907 fax: 011 616 7393, www.hwseta.org.za
INSETA
Insurance Sector Education and Training Authority.
tel: 011 544 2000, fax: 011 484 0862, www.inseta.org.za
LGSETA
Local Government Sector Education and Training Authority.
tel: 011 456 8579 fax: 011 450 4948, www.lgseta.co.za
MICT
Media, Advertising, Information & Communication Technologies Sector Education & Training Authority, 
tel: 011 207 2600, fax: 011 805 6833, www.isett.org.za
MQA
Mining Qualifications Authority.
tel: 011 630 3503, fax: 011 832 1044, www.mqa.org.za
MERSETA
Manufacturing, Engineering and Related Services Sector Education and Training Authority.
tel: 011 484 9310, fax: 011 484 9319, www.merseta.org.za
SASSETA
Safety and Security Sector Education & Training Authority.
tel: 011 347 0200, 0861 102 477, www.sasseta.org.za
AGRISETA
Agriculture Sector Education and Training Authority.
tel: 012 301 5600, fax: 012 325 1677, www.agriseta.co.za
PSETA
Public Service Sector Education and Training Authority.
tel: 012 314 7045/7133, fax: 012 314 7152, www.pseta.gov.za
SSETA
Services Sector Education and Training Authority.
tel: 011 276 9600, fax: 011 276 9650, www.serviceseta.org.za
CATHSSETA
Culture, Arts, Tourism, Hospitality and Sport Education and Training Authority.
tel: 011 217 0600, fax: 011 783 7745, www.cathsseta.org.za
TETA
Transport Education and Training Authority.
tel: 011 781 1280, fax: 011 781 0200, www.teta.org.za
W & R SETA
Wholesale and Retail Sector Education and Training Authority.
tel: 012 622 9500 fax: 012 665 2559, www.wrseta.org.za