Youth matters
Thanks to the National Youth Development Agency's (NYDA) Grant Programme, business is booming for 26-year-old Bahlakoana Moleko, a farmer in De Deur, Gauteng.
Moleko, who runs Yea Media Farmer Fresh, grows spinach and Chinese vegetables on his 10 hectare farm, which he supplies to Chinese markets and restaurants across the province.
Needing a proper irrigation system for his crops, he approached the NYDA and recently received a grant of R49 000 from the programme. This allowed him to invest in a new irrigation system as well as netting, tools and fencing to keep his crops safe from wandering cattle.
To boost his business, Moleka plans to apply for further funding from the IDC-Sefa-NYDA partnership.
The Industrial Development Corporation (IDC), Small Enterprise Finance Agency (Sefa) and NYDA partnership aims to increase access to finance for youth-owned businesses.
Moleka wants to buy more land and build a pack house where his vegetables can be stored and packaged. "With the pack house I will be able to supply large supermarkets with frozen vegetables," he said.
Despite not having a formal qualification in agriculture, Moleko honed his skills after watching neighbouring farmers and being mentored by them.
He learnt to farm Chinese vegetables by watching videos on YouTube and interacted with suppliers at Chinese markets in Johannesburg.
Currently he employs five people, however with more land, he will be able to harvest more crops and create more jobs.
Gro-E Youth Scheme
Three Port Elizabeth friends are also taking their business to new heights, with the help of the Gro-E Youth Scheme, an initiative of the IDC-Sefa-NYDA partnership.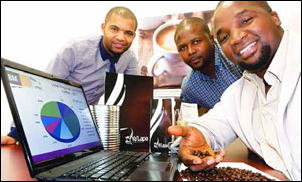 Roland Jordaan, Knight Mali and Mbuleli Kral, of Ya Lapa Coffee, applied for IDC funding for their business last year and received R8 million from the scheme in September.
After much research, the trio identified a gap in the coffee industry and now supply coffee to local businesses.
"South Africa imports more coffee than it exports when our lands are actually suited to growing coffee. There also aren't many businesses, if any, providing a basket of options to retailers and supermarkets," said Jordaan.
During their research, the friends also found that coffee, a multi-billion rand industry and the world's second largest traded commodity after petrol, can be grown in the Eastern Cape.
To help produce and source more locally grown coffee beans, Jordaan, Mali and Kral partnered with several rural farms and community cooperatives in the province to grow coffee there.
As a result, Ya Lapa now produces its own gourmet range of coffees and instant coffee, which it supplies to businesses across the country.
Solomon Mahlangu Scholarship Fund
For Isaac Mashego, of Gauteng, the possibility of going to university was always just a dream, until he became one of about 250 beneficiaries of the Solomon Mahlangu Scholarship Fund.
The fund, launched recently by President Jacob Zuma, gives youth from disadvantaged areas the chance to further their studies at tertiary institutions across the country. It was set up by the NYDA in partnership with the Department of Higher Education and Training, with each contributing R10 million to the fund.
Mashego, who has eight siblings, knew the chances of him furthering his studies were bleak.
"My mother is unemployed and my father works as a driver for a mining company. There was no way my parents could afford the fees so the only way I was going to study was through a bursary or scholarship," said the 19-year-old.
In matric, he worked hard and applied for every bursary he came across.
Mashego's application for Solomon Mahlangu Scholarship Fund was successful and he is currently a first year electrical and electronic engineering student at the University of Johannesburg.
"I am so happy that I finally have the power to change not only my but my family's future as well. Classes are going well. It is a lot of hard work but I am up for the challenge," he added.
For more information on these programmes contact the NYDA on 0800 525 252 or visit 

www.nyda.gov.za