More than 400 people are now proud home owners, thanks to the R25 billion Cornubia Integrated Human Settlements Development Project in KwaZulu-Natal.
Phase 1A of the project has provided homes to 482 people in Ottawa, north of Durban.
Cornubia was launched by President Jacob Zuma as part of government's initiative to integrate society by delivering decent housing and improving the lives of all South Africans.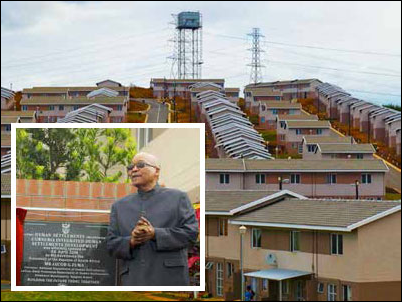 "South Africa indeed has a good story to tell," said President Zuma at the launch, which coincided with the country celebrating 20 Years of Freedom.
Cornubia, said President Zuma, was a result of the successful public-private partnership between the national and provincial Department of Human Settlements, eThekwini municipality and Tongaat Hulett Development.
Once completed, the project will boast 28 000 mixed-income housing units, light industrial factories, clinics, two primary schools, a high school, businesses and parks.
Mobile clinics are also providing residents with health services until the new clinics are built.
"A total of 15 000 of the homes will be subsidised or low income houses," said President Zuma.
Cornubia will cost government R25 billion over 25 years and show government's commitment to provide houses for all South Africans, regardless of race.
"I am hopeful that with integrated human settlement projects like Cornubia, we will be able to effectively eradicate a significant number of the informal settlements across various areas in eThekwini and across South Africa," said the President.
The project is expected to create 48 000 new sustainable job opportunities over a period of 15 years and a further 15 000 during the construction phase.
President Zuma pointed out that residents of Cornubia would also benefit from the new state-of-the-art Bus Rapid Transport (BRT) system. The BRT routes would link Cornubia to surrounding areas like Umhlanga, Phoenix, the Dube Trade Port and the nearby King Shaka International Airport.
The first phase of Cornubia provides houses to residents from surrounding informal settlements, which include Blackburn, Stonebridge, Ridgeview and transit or waiting camps in Clermont.
One of the beneficiaries is 66-year-old Lucy Xaba, who moved into her new home in November last year.
After spending five years in Lindela, a waiting camp in Waybank, Clermont, Xaba finally has a proper roof over her head. Her husband, who was a construction worker, died a few years ago and since then she has been selling potatoes to support herself.
"Life has been tough for me but I am happy today because my suffering has come to an end. I never expected that I would ever live in a place like this," said Xaba.
Living in Cornubia, also provides an income for 51-year-old Inderlal Mothilal, his wife Mominbibi and their two children. The couple earn a living by running a tuckshop in Cornubia, where residents can buy bread, milk and other essentials.
Just a few doors down is the Muthia family. After 46 years of marriage, James and Sally Muthia finally have a home of their own. Originally from Blackburn village - an old slum near Phoenix, the couple's garden is the talk of Cornubia.
"My new home is my pride and joy that is why I take pride in my garden," said James Muthia.
Mother of three, Zanele Cele, enjoys living in a Cornubia's mixed community.
Cele, 26, shares a house with her children and parents Zozwane Ngcobo and Eunice Cele, who are both unemployed.
The family moved to Cornubia after living in a one-room shack in a transit camp in Clermont.
"We now have so much space and a bathroom. It is really a different life than we are used to and we love it.
"Living with people of mixed races is very nice. We learn a lot about different cultures and Cornubia is how South Africa should be, one big happy, mixed family," said Zanele.
Construction of Phase B is underway and promises another 2 100 homes, costing around R560 million.
Over the past 20 years, government has provided homes for 12 million South Africans.