Written by Albert Pule and SAnews
Taung Agricultural College's efforts to develop the country's agricultural industry and fight poverty have received a major boost thanks to a US $1 million (about R 10 million) donation.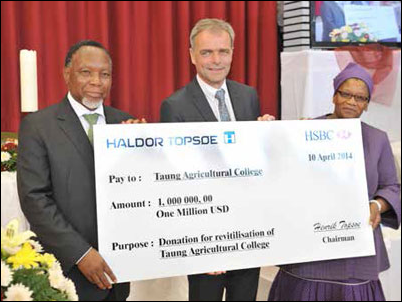 Danish company Haldor Topsøe, which specialises in research and technology, recently made the donation to the North West college as it strives to become a centre of excellence in irrigation technology.
The then Deputy President Kgalema Motlanthe, who attended the event, urged the college to use the money to equip students and teachers to educate communities about the importance of preserving nature.
"Nature is very important for the production of food in this country," the Deputy President noted.
He also thanked the Danish company for its contribution.
"The South African Government is humbled by Haldor Topsøe's gesture and we are confident that this donation will be used for a good cause."
North West Premier Thandi Modise, who accompanied the then Deputy President while he inspected some of the projects on the campus, said agriculture was a key driver of the provincial economy and employed a large number of people.
"The donation will go a long way towards training aspirant farmers and ensuring food security in the battle to alleviate poverty," said the Premier.
Haldor Topsøe representative Helge Rosenberg said the company was pleased to be associated with Taung Agricultural College as it shared the same vision.
"We share the same enthusiasm and innovation of making an input into agriculture. We are happy that the team of management at the college has a clear vision and is very committed to innovative training and curriculum," said Rosenberg.
The company's involvement with the college would provide many opportunities for the students, Rosenberg added.
The college's principal, Pepenene Serage, welcomed the donation, saying it would help the college achieve its goal of becoming a centre of excellence in irrigation technology.
Taung Agricultural College offers a range of specialised programmes developed to meet the needs of the agricultural industry and help fight poverty.
The college has just been re-accredited by the Council on Higher Education (CHE) to offer a NQF level 6 Diploma in Agriculture specialising in Irrigation Technology.
The college also received an additional R30 million from government, allocated for infrastructure development projects.