The South African media are invited to submit their entries for the 2023 Southern African Development Community (SADC) Media Awards competition by 28 February.
Government Communication and Information System (GCIS) calls on the community media fraternity to submit more entries for the 2023 competition so that the country can be represented regionally. 
One of the national media coordinators for the competition, Mmemme Mogotsi, says the first prize winner in each category receives US$2 500 (about R42 000) and the runner-up receives US$1000 (about R16 000).
Speaking to representatives of community media who gathered at the Media Development and Diversity Agency (MDDA) workshop held in Sandton recently, Mogotsi says the awards were established in 1996 to recognise and promote the best media work in distributing information on the SADC region.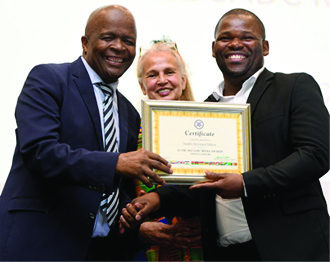 "The awards aim to recognise excellence in journalism in the area of print, photo, television, radio as well as to encourage media practitioners in SADC Member States to cover issues pertaining to the region, and to promote regional cooperation and integration. Mainstream and community media in the region must cover SADC stories in order to qualify for the competition," she says. 
She says the first prize winners will receive their prizes and certificates on the margins of the SADC Summit of Heads of State and Government that will take place in August 2023, in the country that is Chair to SADC. The awards are presented by the Presidents of SADC countries.
SADC Member States include Angola, Botswana, Comoros, Congo, Eswatini, Lesotho, Madagascar, Malawi, Mauritius, Mozambique, Namibia, Seychelles , South Africa, Tanzania, Zambia, and Zimbabwe.
"Last year we did not have any winners from the community media category. It would really be great if we can receive entries from community media so that we can represent South Africa in all categories," she says.
In 2021, Welcome Ntombela of Nongoma FM in KwaZulu-Natal was the national winner in the community media category.
He is the News Manager and Editor of the community radio station, which was established in 2015 and has listenership of 151 000 covering Nongoma, Mpangeni, Richardsbay, Pongola, Nquthu, Scottburgh, Eswatini, and Mozambique.
"We provide great content to our listeners, including current affairs, sports and educational programmes in IsiZulu. Winning the award was a great deal for me, everyone in our radio station and our listeners. It shows that the work that we do is important," he says.
How to apply
Mogotsi says entries will be accepted for journalism categories including print, radio, television and photojournalism.
"The entries should have been published or broadcast between 1 January and 31 December 2022. The themes and topics of the entries must be on issues and activities promoting regional integration in SADC, such as infrastructure, economy, water, culture, sports, agriculture, among others," she says.
She adds that all entries should be in one of the SADC working languages- English, Portuguese, French and any national indigenous language of the SADC Region.
For future reference, Mogotsi advised community media to contact the Department of International Relations and Cooperation (DIRCO) and ask for assistance with content on SADC or South Africa cooperation with other member states.
Further details about what entries for each category must include can be provided by the GCIS and the MDDA.
For more information about the competition, visit www.gcis.gov.za or call Mmemme Mogotsi on 072 856 4288 or email mmemme@gcis.gov.za or Ayanda Hollow 061 488 0634 or email holo@gcis.gov.za. At DIRCO, you can email Michelle Greef: Greeffm@dirco.gov.za or call 012 351 1743