Written by Dikeledi Molobela
Local Entrepreneur Paul Masilo (46) has proven the phrase "hard work pays off" to be true after he started and manufactured a mouthwash called Freshmo with no preparation or a chemical engineering background.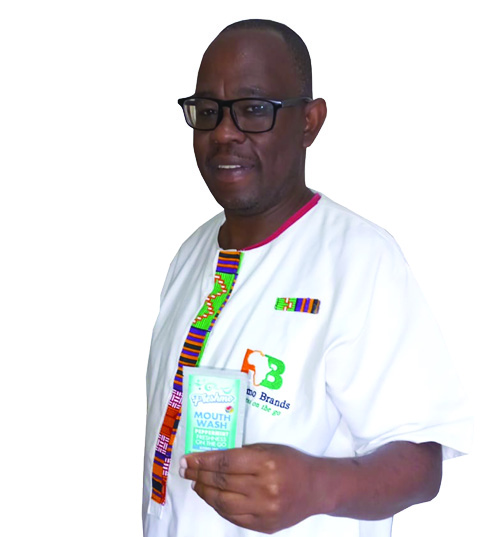 The father of two from Boksburg in Ekurhuleni founded Freshmo Brands in 2014, which is the first black owned and township-based company in Africa to produce mouth-
wash packaged in sachets.
With oral hygiene on-the-go being a challenge for many, Masilo decided to start a mouthwash business that is affordable and easily accessible to the township market.
The company's slogan, "Freshness on the go", explains its objective to provide affordable oral hygiene products suitable for people on the move.
According to Masilo, Freshmo has been tested by the South African Bureau of Standards (SABS) through the University of Limpopo's Biotechnologies Research Centre and endorsed by Proudly South African.
Masilo says the idea of a mouthwash was sparked when he was engaged in a religious practice called fasting and he needed something to freshen his mouth.
"During the fasting period, I could not eat anything. One morning I needed a mouthwash to keep my breath fresh, and I could not go around carrying a huge bottle [of mouthwash], that's when the packaging idea came," he says.
"I did my research and discovered that the mouthwash we have in Africa is made by companies outside the continent. Although they have set up factories in Africa, their  formula was not based in Africa. We saw an opportunity to be the first African company that manufactures a mouthwash packaged in sachets," he adds.
Masilo experienced challenges while he was trying to get the business of the ground as he did not have funds.
This prompted him to approach the Gauteng Economic Department for funding, which advised him to create his own formula instead of buying the product from another manufacturer, as he had initially intended.
"It was a difficult ask since I did not have a chemical engineering background. Years later after speaking to a few people, I was introduced to Professor David Katerere from the Pharmaceutical Science Department at the Tshwane University of Technology who assisted me to create my own formula," he says.
After creating the formula, he was funded by a colleague to buy the chemicals needed to make a prototype mouth-wash. He then went to an incubation hub in Sasolburg and they helped with their lab facility to create the first batch of Freshmo.
The product was then packaged into sachets followed by a stability test under different temperatures to see its suitability. To his surprise, the results came back positive.
Challenges
Masilo experienced few challenges including access to markets and getting his product into the retail space. He approached various retailers, local shops, airlines and hotels but faced challenges.
"We are still trying to negotiate with retailers; it is difficult because doors are closed. However, one of the retailors has committed to buying 6 000 sachets of Freshmo to test the product," he says.
The mouthwash currently comes in two flavours; Spearmint and Peppermint.
Masilo hopes to create employment opportunities in his community. He currently works with his son who is the Production Manager at Freshmo Brands.
South Africans can purchase Freshmo via the company's website on www.brandfreshmo.co.za or WhatsApp line on 084 273 7821.
For more information about getting your product to be tested by SABS, call 012 428 7911 or email info@sabs.co.za