Written by More Matshediso
A group of residents in the agricultural community called Friemersheim in Mossel Bay, Western Cape, hopes to inspire unemployed women and youth to unite and create jobs for themselves, in order to end poverty in their communities.
The success story of Free Heim Egg Layer farm shows how South Africans can work together to overcome challenges.
According to the co-manager Dorothy Joseph, Free Heim Egg Layer farm is a cooperative made up of three women, a young person living with disability and two men.
"We established the farm in 2003 and it specialises in egg production. We started with 200 layers, and today we have 3 100 layers," says Joseph.
The farm currently produces 250 dozen eggs per day and sells the products to local restaurants, spaza shops and game reserve.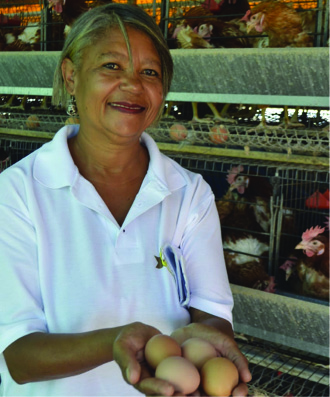 While the farm was still in its early development phase, the Western Cape Department of Agriculture funded it with R50 000 to buy agricultural inputs. During the 2020/21 financial year, the department funded the project with R1.2 million for infrastructure and more agricultural inputs.
"The department also supports us with training and skills development programmes to help us improve the business," says Joseph.
She says the Department of Agriculture, Land Reform and Rural Development (DALRRD) also funded the business with R800 000 in 2022 to buy inputs including a delivery vehicle, pellet machine for chicken feed, egg grader and wrapping machines.
The farm is also a member of the South African Poultry Association (SAPA) which provides information about poultry farming, training opportunities, and food safety and security.
Besides members of the cooperative, the farm temporarily employs three people from the community.
Joseph says staying in an agricultural town nurtured their love and passion for animals and farming, and that motivated them to become entrepreneurs.
"We want to inspire women and youngsters to provide for themselves and to create more jobs in their communities," she says.
She says farming is not an easy job, but it requires perseverance, hard work and determination.
You can call the Western Cape Department of Agriculture on 021 808 5111 or email: DOA.Info@westerncape.gov.za
You can call DALRRD on 012 319 6000/012 312 8911 or email: queries@dalrrd.gov.za / info@DALRRD.gov.za