The life of Nyameka Tshangana is an example of how the Jobs Fund is empowering women to take up careers that were previously male dominated.
The National Treasury invested R9 billion to establish the Jobs Fund in 2011 to support innovative approaches and initiatives to job creation.
According to the National Treasury, once-off grants are awarded through the Jobs Fund to projects that demonstrate sustainable job creation potential.
"The Jobs Fund is not a mass employment programme, and it is not intended to tackle long-term, structural causes of low growth and unemployment. However, it complements these efforts with a targeted programme of support for effective labour market interventions that result in sustainable employment creation," says the National Treasury.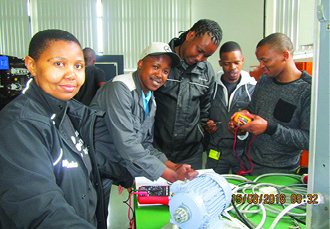 Born in Umtata in the Eastern Cape, Tshangana chose an unusual career path when she obtained a National Diploma in Electrical Engineering in 2013 from the Buffalo City TVET College.
In 2004, she started her career as an Electrical Apprentice at Mercedes-Benz South Africa where she has thrived and inspired other women.
Just three years after starting at Mercedes-Benz South Africa, Tshangana was appointed as a Robot Cell Technician in the body-shop production unit before moving to the maintenance unit, where she was the only woman in the team at the time.
Her role in the maintenance unit included training cell technicians to operate glueing
equipment. Tshangana soon became the first female Specialist Electrical Technical Instructor at the state-of-the-art training academy of the automotive company.
As part of the partnership between the Jobs Fund and Mercedes-Benz South Africa, the company's training academy is equipped with state-of-the-art technology required to produce the skilled labour needed by the artisan industries.
At the academy, technical experts mentor the learners who are trained as millwrights, fitters and electricians so that they can secure positions either within Mercedes-Benz or partner businesses.
Since 2014, the training academy has trained approximately 400 women as millwrights, motor mechanics and auto electricians.
Tshangana, who also works as Team Leader for Electrical and Advanced Technical Training at the academy, is responsible for training the apprentices who have Electrical Engineering qualification from TVET colleges and those with Technical Matric to apply practical knowledge of the theory that they learnt in school.
"It is good to see them obtain their qualifications, knowing that I have contributed to their future success," she says.
Tshangana has taken it upon herself to introduce workshop sessions for all women apprentices at the academy to coach them on how to navigate the male-dominated technical world.
With more than 10 years of working in the industry, Tshangana's advice to women wishing to make it in the industry is: "Before you quit, always remember why you started. It is important to have a vision in life and if you put your mind to something, anything is possible."
The Fund is currently not accepting funding applications, but organisations can request to be added to the mailing list for future funding round announcements via jobsfund@treasury.gov.za. - Jobsfund.org.za
For more information, visit www.jobsfund.org.za or call 012 406 9166.