Written by Silusapho Nyanda
Cuban doctors are set to bolster South Africa's COVID-19 fight.
South Africa is intensifying its efforts to curb the coronavirus disease (COVID-19) with assistance from 217 Cuban doctors. 
The doctors, who arrived in South Africa recently, bring expertise in the fields of epidemiology, biostatistics and public health.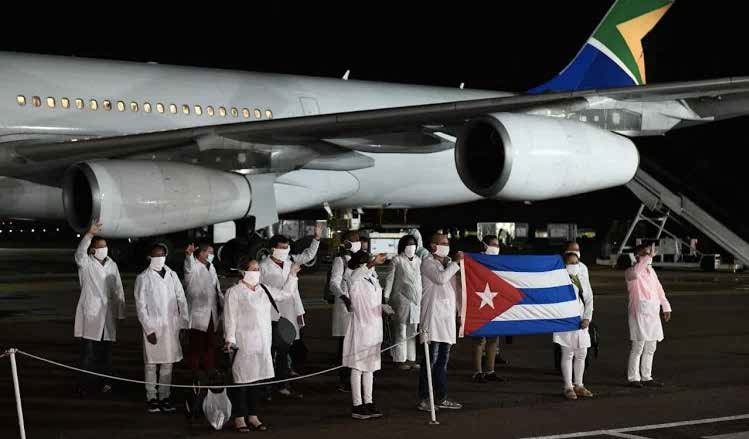 The team also comprises of family physicians, who will guide door-to-door testing and assist local health workers in health promotion and disease surveillance at community level; and healthcare technology engineers, to assist in maintaining the inventory, deployment and repair of aged medical equipment. The Cuban experts will provide technical assistance to local experts.
Health Minister Dr Zweli Mkhize says the group will augment the country's abilities in areas where the Cuban doctors have strengths we need, such as community medicine. 
"This brigade does not threaten job security for our own healthcare workers, but has rather come to strengthen our human resources capacity. The Cuban doctors have expertise in family medicine, case management, regulation, epidemiology, health technology and biostatistics," says Minister Mkhize.
The family physicians have been allocated to different provinces, based on the severity of the virus in that province as follows;  
The Western Cape (WC) received 18 doctors
Gauteng (GP) and KwaZulu-Natal (KZN) have been allocated 17 each; 
The Eastern Cape (EC) received 12 family physicians;
The Free State (FS) and Mpumalanga (MP) have 10 each; 
Limpopo (LMP) and the North West (NW) have eight each;
Northern Cape (NC) has seven family physicians.
The WC, GP and KZN were each allocated five health technology experts. The EC has four; the FS, MP, LMP and NW have three each; and the NC has two.
The number of biostatisticians allocated to each province are as follows;
GP, four; 
WC and KZN, three each; 
EC and FS, two each; 
MP, LMP, NW and NC, one each. 
The National Department of Health (NDOH) also has three biostatisticians allocated to it. The NDOH recieved one epidemiologist and so did the NC, NW, LMP and MP. The FS and EC have two each; while KZN, WC and GP have three each.
The help from Cuba is the latest in a long history of friendship between South Africa and the Central American nation. The Nelson Mandela-Fidel Castro medical training programme has seen over 732 South Africans trained as doctors in Cuba in the past 23 years.