Written by More Matshediso
The National Department of Human Settlements has allocated R4.6 billion from the Human Settlements Development Grant and the Urban Settlements Development Grant in the current financial year in response to the coronavirus (COVID-19) pandemic.
Minister Lindiwe Sisulu says government has stressed that apart from washing hands frequently with water and soap, citizens need to practise social distancing.
"From the very beginning, my department realised that this was not practical for informal settlements. We therefore came up with re-blocking – initially called de-densification – as a solution," she says.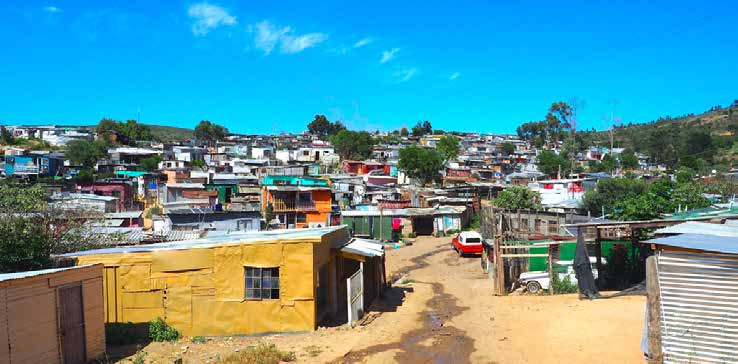 "We've joined up with civil society organisations to resettle residents from extremely dense informal settlements to 27 land parcels we identified and are currently preparing for resettlement." 
The department will be using temporary residential units (TRUs) to house many of the affected residents. These units are quick to assemble, have solid flooring and a corrugated iron roof.
Minister Sisulu recently gave an update on what the department is planning and already doing in the most affected provinces – the Eastern Cape, Gauteng, North West and the Western Cape.
Eastern Cape
In Duncan Village in Buffalo City, the department has appointed a contractor to fast-track the construction of 1 174 housing units as part of the broader Duncan Village Integrated Development Programme. Another 2 000 units will also be constructed at Ziphunzana Bypass and Gompo, where a contractor has already been appointed and is on site. 
Minister Sisulu said some of the beneficiaries will be relocated to 2 500 completed units in Reeston and 2 800 units in Mdantsane. These are people who have already applied and been approved for government's low-cost housing programme.
Gauteng
In Gauteng, the department will deliver TRUs to 72 households on Plot 323 in Wilgespruit, Roodepoort, in the City of Johannesburg. 
"We managed to achieve this through our private sector partners who donated these units to the provincial and local government. These families have constantly been victims of multiple farm evictions over the past years," she explained.
In Diepsloot, she said the department will be resettling 1 348 approved beneficiaries to completed units in Riverside, Johannesburg. This process commenced in May.
The department has also prepared 1 108 stands in Tanganani Extension 7. Another 1 100 units will also be constructed in Tanganani Extension 14.
In Zandspruit and Ivory Park, 1 402 and 1 200 units respectively are planned. Minister Sisulu said the Housing Development Agency will take further instructions from the City of Johannesburg on proposed designs.
In the Stjwetla informal settlement in Alexandra, 2 295 TRUs will be constructed. Community facilitation has already commenced.
Madala Hostel has been identified for de-densification, with 1 233 units to be erected by the Johannesburg Social Housing Company.
"A total of 1 062 multi- storey units will also be constructed in the area and the department is in the process of obtaining approval from the Gauteng Provincial Government to access provincial land," the minister says.
She added that  Helen Joseph Women's Hostel will benefit from 144 units, and the identification of households earmarked for relocation to units will commence at the end of this month and relocation letters to all beneficiaries targeted for relocation will be issued.
At Phomolong in the City of Tshwane, households from the K54 route and 150 victims of the Mamelodi floods will be resettled on 792 stands and 1 000 TRUs will be constructed to decongest the Mamelodi Hostel.
The minister says residents from Brazzaville and six other nearby informal settlements in Pretoria West will also benefit from a planned 1 342 units.
Minister Sisulu met with Executive Mayor of the City of Johannesburg Geoff Makhubo and the MEC for Human Settlements, Cooperative Governance and Urban Planning, Lebohang Maile. She has asked them that prospective residents in Gauteng already on the waiting list be immediately resettled into an estimated 14 000 units that have been completed. 
North West
In the North West, 350 housing units are scheduled to be constructed in the Boitekong informal settlement in Rustenburg.
Western Cape
Minister Sisulu said in DuNoon in the City of Cape Town, a contractor has been appointed to deliver 1 500 multi-storey TRUs.
"A total of 2 000 units will also be constructed in Kosovo, whilst the department, province and the City of Cape Town intend to build 3 000 units at Ithemba," she explained.