Written by: More Matshediso
The Department of Home Affairs (DHA) is recruiting the second cohort of the 4 000 unemployed youth for the digitisation of civic records project, which is meant to convert over 350 million paper records into electronic format for improved service delivery.
Applications are open and will close on 2 March. This 4 000 is part of the 10 000 unemployed young people who will be recruited on a 36 months employment contract by the Department by April 2023.
According to the department, the project started in August 2022 with the recruitment of 2 000 unemployed young graduates. As of January 2023, the department had appointed 1 341 youth.
The project is in collaboration with the Department of Employment and Labour (DEL) and Harambee Youth Employment Accelerator as part of the National Pathway Management Network.
It seeks to contribute to the employment creation goals and strategic priorities of the Presidential Employment Stimulus programme. The three-year R2.4 billion project was announced by President Cyril Ramaphosa during the 2022 State of the Nation Address (SoNA).
Kamogelo Kgatshe (23) of Ramochana in the North West province is one of the recruits who joined the project last year and her contract will end in October 2025. She believes that the South African government is doing its best to help young people find employment.
In 2020, Kgatshe completed a Bachelor's of Information Management at the University of Johannesburg, and obtained her Honour's Degree in Information Management in 2021 from the same university.
She came across an advert of this opportunity on Facebook in the third quarter of 2022 and applied through the DEL.
"I later received a call and was invited for an interview at DHA Brits office in the North West. Fortunately, I was appointed for a managerial post in November," she says.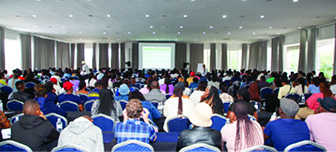 As part of her job, she ensures that daily activities are communicated through and executed, she manages and leads team leaders, she ensures safety and security of her colleagues, she resolves conflicts amongst them, she motivates them to increase productivity and meet the set goals within the department, and ensures that queries or complaints are taken in consideration.
"The experience equips me to play a supervisory role, and will help me in the future. I am also ecstatic to actually work in the field that I studied for. At least I am now able to practically apply the five years of theory that I learnt at university," she says.
This is the third time that Kgatshe became part of government initiatives that seek to combat unemployment in the country.
She started her first job in 2020 as an Education Assistant at Tlhabane Technical High School in the North West, and her contract ended in March 2021.  In 2022, Kgatshe returned to the school and worked as a COVID-19 cleaner and later was promoted to work as a Printing Machine Operator until June 2022. 
"The government is changing young people's lives. I have seen a lot of drastic changes in my life by being part of this project. I am now able provide for my family and sustain myself as well," she says.
She adds that such initiatives are not just beneficial to participants but to their households too. She encourages more young people to apply for the great opportunity, especially those who are studying towards qualifications related to Artificial Intelligence, Knowledge Management and Digitisation Courses because "we are already living in the Fourth Industrial Revolution (4IR)".
Who can apply?
South African citizens aged between 18 and 35 years old.
Your qualification must match the minimum requirement of the role you are applying for.
No criminal record; and clear credit history.
Roles and stipends
R5 000 per month
Document Warehouse Controllers (16 posts)
Runners (240 posts)
Preppers (735 posts)
Re-assemblers (734 posts)
Receiving Clerks (100 posts)
Scanners (125 posts)
Drivers (10 posts)
Indexers (1 600 posts) - R5 500 per month
Quality Controllers (200 posts) – R6 000 per month
Team Leaders (210 posts) – R6 500 per month
Tech Support (24 posts) – R9 500 per month
Managers (6 posts) – R14 250 per month