Written by Amukelani Chauke
Trade and Industry Minister Rob Davies says incentives offered by the department has led to government retaining 68 000 jobs in the clothing and textile sector.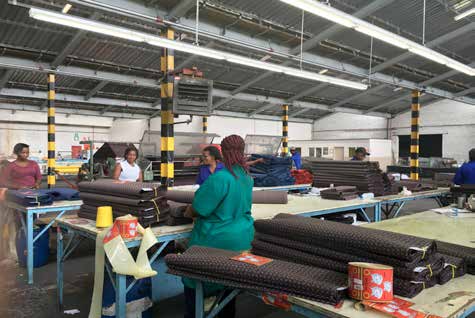 This means that many factory workers who make clothes and shoes, amongst other products, are able to provide for their families despite tough economic times.
Minister Davies said this when he delivered a speech during a debate on President Jacob Zuma's State of the Nation Address.
"The clothing and textiles sector was in terminal decline but we took steps based on the Clothing and Textile Competitiveness Improvement Programme and between 2010 and March 2015 we supported R3.7 billion worth of competitiveness rising initiatives in the sector.
"As a result 68 000 jobs in this sector have been retained and 6 900 new jobs have been created," he said.
The Minister also said that 22 new factories in the leather and footwear sector have been opened. He said the clothing and textile sector has been successfully stabilised and is steadily regaining its domestic market share and beginning to grow exports.
"A sign of this is that retailers such as Foschini have been happy to invest in productive clothing companies in this country because they realise that there is value to be had," he said.
Government wants to create 100 black industrialists
Minister Davies says the recently launched Black Industrialist Programme has already received pledges in excess of R30 billion from Development Finance Institutions (DFIs).
Minister Davies launched the forum, set up to oversee the applications for the black industrialist programme, in December.
The Black Industrialist Programme
"I am happy to indicate that we already have pledges of over R30 billion from institutions like the Land Bank, the Industrial Development Corporation (IDC), the Small Enterprise Finance Agency (Sefa), the Development Bank of Southern Africa (DBSA) and some provincial organisations like the KwaZulu-Natal Growth Fund.
"We have already received applications and I am pleased to say that the funding forum will hold its first meeting next month," he said.
During his State of the Nation Address, President Zuma said economic transformation and black empowerment remain a key part of all economic programmes of government.
He said one of government's new interventions is the black industrialist scheme which has been launched to promote the participation of black entrepreneurs in manufacturing.
The President urged big business to partner with the new manufacturers, including businesses owned by women and the youth, as part of broadening the ownership and control of the economy.
During the debate, Minister Davies said during the course of this year, government will be introducing a new Industrial Policy Action Plan (IPAP), which will cover the actions of this year.
"One of the new features is that we will be introducing gas industrialisation, but will also be focusing on labour intensive sectors taking forward to work on the clothing and textile sector and agro-processing, [amongst others].
"The higher level of localisation has been achieved.  We now have firms, that would have supplied us with imports coming into South Africa, investing and producing here.
"But we are not at a point in localisation where we have sufficient local companies, particularly companies that are owned by the majority of this country's population, that are driving jobs.
"It is for this reason that we have launched a targeted black industrialist programme," he said.