President Jacob Zuma delivered his State of the Nation Address (SoNA) to Parliament in Cape Town on Thursday, 11 February 2016. It was his third SoNA since he was re-elected to lead the fifth administration in May 2014. Among other things, the speech focused on the need to accelerate economic growth.
The President also provided an update on the Nine-Point Plan that he unveiled at the 2015 SoNA, which seeks to stimulate economic growth and create much-needed jobs.
Human rights
Human Rights Day on 21 March will this year be commemorated as the national day against racism. It will be used to lay the foundation for a long-term programme of building a non-racial society.
Growing the economy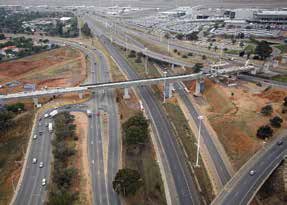 A resilient and fast-growing economy is at the heart of South Africa's radical economic transformation agenda and the National Development Plan.
Government has embarked on an aggressive infrastructure development programme to stimulate growth. It has urged business and labour to continue marketing the country as a preferred destination for investments.
In order to create the correct investment support infrastructure, government is developing a One-Stop Shop/Invest SA initiative to signal that South Africa is truly open for business.
To ensure the success of this initiative, government will remove the red tape, and review any legislative and regulatory blockages.
Government has also established an Inter-Ministerial Committee on Investment Promotion to ensure the success of investment promotion initiatives.
Performance of state-owned companies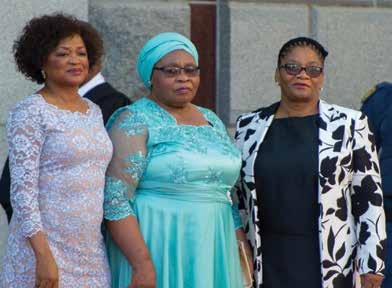 The South African National Roads Agency Limited has built some of the best roads in Gauteng and in many parts of the country.
The Trans Caledon Tunnel Authority has constructed dams of varied capacities, which makes it possible for South Africans to have access to safe drinking water.
Transnet has built rail infrastructure which has enabled the country's mines to move massive bulk of commodities through the ports to markets around the globe.
Development finance institutions such as the Industrial Development Corporation or Development Bank of Southern Africa and others continue to provide finance for infrastructure, various industries and agricultural businesses.
Government plans to implement the recommendations of the Presidential Review Commission on State-owned Enterprises, which outlines how the institutions should be managed in order to achieve the developmental objectives and aspirations of South Africa.
The President said:




"To achieve our objectives of creating jobs, reducing inequality and pushing back the frontiers of poverty we need faster growth. "In the National Development Plan, we set our aspirational target growth of five per cent per year, which we had hoped to achieve by 2019."
Boosting tourism

South African Tourism will invest R100 million a year to promote domestic tourism and encourage South Africans to tour their country.
Migration
The draft migration policy, which will make it possible to import scarce skills into the country, will be presented to Cabinet during 2016.
Developing small businesses
Government, through the Department of Small Business Development, will provide access to high-quality, innovative business support that can dramatically improve the success rate of new ventures and empower small businesses to accelerate their growth.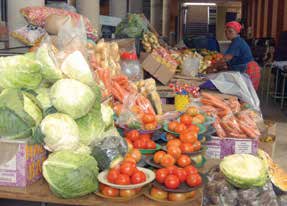 Economic transformation and black empowerment remain a key part of all economic programmes of government. Government has launched the Black Industrialists Scheme to promote the participation of black entrepreneurs in manufacturing.
Government has urged big business to partner the new manufacturers, including businesses owned by women and the youth, as part of broadening the ownership and control of the economy.
Local banks – through the Banking Association of South Africa and in collaboration with the Ministry of Finance and National Treasury – will launch a project aimed at establishing a centre of excellence for financial services and leadership training.
This will help ensure that the country attracts, nurture, develop and retain the best talent in financial services in South Africa and across the continent. This will also provide job opportunities for many young people.
Cost-cutting measures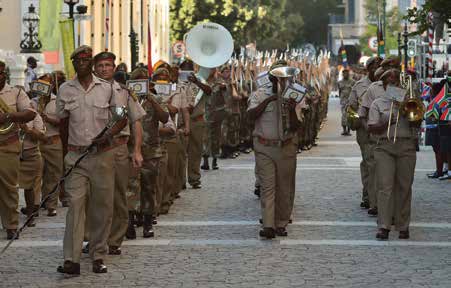 To cut wasteful expenditure without compromising on the core business of government and the provision of services to the people, government will implement the following austerity measures:
• Overseas trips will be restricted and those requesting permission will have to motivate strongly and prove the benefit to the country.
• The sizes of delegations will be greatly reduced and standardised.
• Further restrictions on conferences, catering, entertainment and social functions will be instituted.
• The Budget Vote dinners for stakeholders hosted by government departments in Parliament after the delivery of budget speeches will no longer take place.
A big expenditure item, that government would like to persuade Parliament to consider, is the maintenance of two capitals, Pretoria as the administrative one and Cape Town as the legislative capital.
"We cannot change the global economic conditions, but we can do a lot to change the local conditions.
"Let us work together to turn the situation around. It can be done." – President Jacob Zuma
Higher Education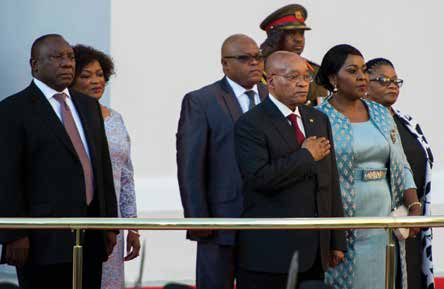 The Minister of Finance will provide details of the financial shortfall arising from the zero per cent university fee increase in his Budget Speech on 24 February 2016.
Government has appointed a Judicial Commission of Inquiry into higher education.
Health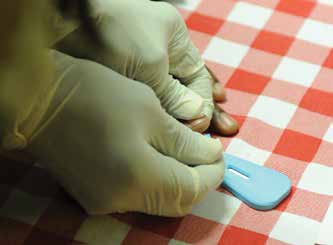 Life expectancy of South Africans for both males and females has significantly improved to 62 years, which is an increase of eight and a half years since 2005.
The HIV policy turnaround in 2009 led to a massive roll-out of HIV testing and treatment for 3.2 million people living with the virus. This has contributed immensely to healthier and longer lives for those infected.
Government, through the Ministry of Health, aims to revive prevention campaigns, especially amongst the youth.
The state-owned pharmaceutical company, Ketlaphela, has been established to supply antiretroviral drugs to the Department of Health from the 2016/17 financial year.
The White Paper on National Health Insurance (NHI) was released in December 2015 for public comments. NHI is aimed at achieving universal access to healthcare for all people in South Africa.
Local government issues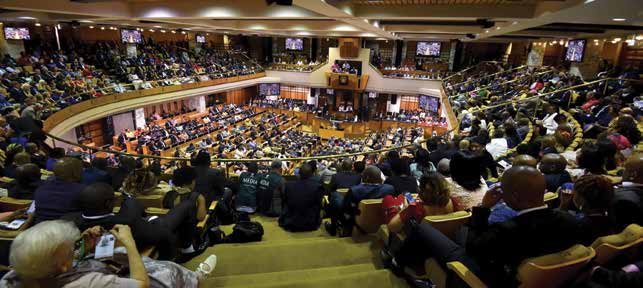 Local government elections will be held within three months after 18 May, the date of the last elections.
Government has urged all citizens over the age of 18, particularly the youth, to register to vote during the first registration weekend of 5 and 6 March 2016.
Government will intensify the implemention of the Back to Basics local government revitalisation plan in 2015, which was launched in September 2014.
More active monitoring and accountability measures to be used will include:
• unannounced municipal visits;
• spot checks of supply chain management processes;
• the implementation of recommendations of forensic reports;
• site visits of Municipal Infrastructure Grant funded projects; and
• increased interventions to assist struggling municipalities.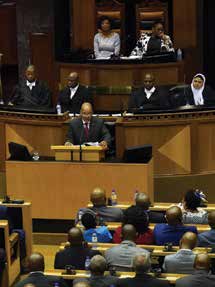 A 10-point plan of Back to Basics priority actions has been developed and it includes the promotion of community engagement.
Safety and security
The South African Police Service is undergoing transformation and has adopted the Back-to-Basics approach to management to rebuild the organisation and improve performance at all underperforming police stations.
Government has condemned the killing of police officers and also urged police officers to defend themselves when attacked, within the confines of the law. To date, 57 police officers had been murdered during the 2015/16 financial year.
Strengthening relations in Africa and the world
South Africa continues to support peace and security and regional economic integration by participating in the African Union and the Southern African Development Community initiatives. It continued to assist sister countries such as Lesotho and South Sudan to resolve their issues.
The South African National Defence Force, which has been deployed in various peacekeeping missions on the continent, is showcasing its capability in Port Elizabeth from 13 to 21 February, as part of the celebration of the annual Armed Forces Day.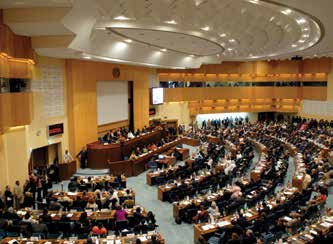 Brazil, Russia, India, China and South Africa (BRICS) have reached agreement on the New Development Bank or BRICS Bank, which is envisaged to approve its inaugural projects in April this year.
South Africa has participated in the India-Africa Summit held in New Delhi, India from 26 to 30 October 2015 and the Forum on China-Africa Cooperation hosted in Johannesburg from 4 to 5 December 2015.
As part of the US$50 billion worth of investments announced by China recently, South Africa will receive US$10 billion for infrastructure, industrialisation and skills development.
On North-South cooperation, South Africa continued its engagements with the European Union (EU), which is the country's largest trading partner and foreign investor. Over 2 000 EU companies operating within South Africa have created over 350 000 jobs.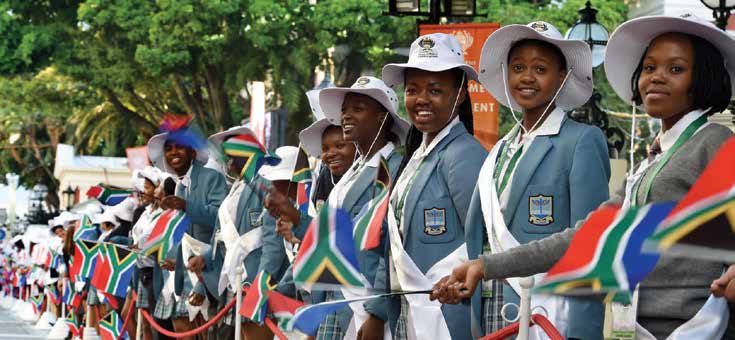 South Africa's relations with the USA and Canada continue to strengthen, especially in the areas of economy, health, education, energy, water, safety and security, capacity building and the empowerment of women.
The renewal and expansion of the African Growth and Opportunity Act (AGOA) has provided a platform for the enhancement of industrialisation and regional integration. All outstanding issues around AGOA are being addressed.
Sporting programmes for a healthy lifestyle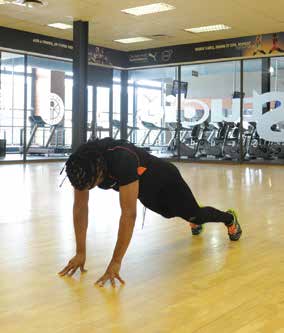 Government has urged all people in South Africa to participate in several programmes aimed at promoting healthy lifestyles and nation-building.
These include the National Recreation Day; Nelson Mandela Sports and Culture Day; World Move for Health Day; Golden Games, and Andrew Mlangeni Golf Development Day.
Promoting arts and culture
Government has established the Living Legends Committee to coordinate the participation of performing arts legends in nation-building activities in the country.
South African musicians and actors have heeded government's call to unite and have since formed the Cultural and Creative Industries Federation of South Africa. The Presidency has established the Presidential Creative Industries Task Team to support the artists.