Written by Amukelani Chauke
Economic Development Minister Ebrahim Patel says despite South Africa's  economy being faced with tough times, over 700 000 jobs have been created over the past year.
The Minister said this when he made remarks during a debate on the State of the Nation Address in Parliament recently.
"Even with these headwinds and the real challenges we face, the past year has seen real concrete progress.
"The economy created 712 000 new jobs in 12 months, in tough, difficult conditions. "Most of the new jobs came from agriculture, the construction industry and business services," the Minister said.
He said the province with the strongest employment creation over the 12 months was Gauteng, with 191 000 more jobs, followed by KwaZulu-Natal and Limpopo.
Minister Patel said employment for the year as a whole grew by 4.7 per cent, significantly outperforming the country's economic growth.
The Minister said despite these positive figures, too many of our people remain unemployed.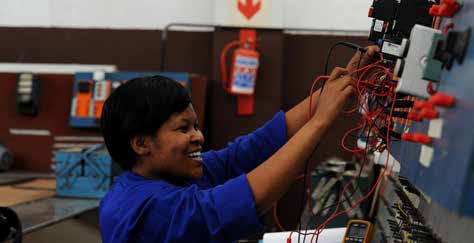 He said that last year, while the economy created almost three quarters of a million new jobs, the number of work-seekers grew by almost a million, increasing the ranks of eight million South Africans who are ready to work but are unemployed.
"This is our challenge. This is what we need to address as we upscale our efforts on economic growth and make it more inclusive.
"Yes, we made real progress on jobs and yes, we maintained growth last year when others have gone into recession. But we need to do even better," he said.
The Minister said to do better, and to promote greater levels of inclusion, government:
Was completing measures to increase support for Small and Medium-sized Enterprises;
Plans to promote youth entrepreneurship and youth jobs through a regulation to require national infrastructure projects to employ up to 60 per cent of new staff from young professionals and young workers; and
Will set aside loan-funding of R4.5 billion for youth empowered businesses. He said that to support rural and agricultural inclusion, government has prepared a first package of support, just short of a billion rand, to farmers affected by the drought.
The Minister said government would act against corruption and collusion in the economy.
Minister Patel said, meanwhile, that government would step up its efforts with the private sector and with organised labour to create jobs, reduce fractious,  conflictual relationships and build a deeper partnership.
This will be done with greater urgency, the Minister said, because the country is confronted with big challenges that can slow progress to its goals.
"We need to create more jobs through infrastructure, industrialisation, innovation, investment, inclusion and integration and work more effectively through the institution-building and implementation," he said.
Government invests R1 billion a day to improve lives
The Minister said one of government's aims is to create jobs through infrastructure and, to this end, R290 billion was invested over the past calendar year.
He said this amounted to more than R1 billion every working day.
This, the Minister said, enabled government to build 160 new schools and to provide new higher education housing accommodation for an additional 3 100 students. 
With R1 billion a day, government was able to start construction on three new technical college campuses and two new universities.
Government also built about 100 000 new houses and connected 265 000 homes to electricity.
"The R1 billion a day enabled us to erect more than 300 kilometers of transmission lines to bring power closer to the people," he said.
He said government also connected 1 700 Megawatts of energy to the grid, almost equal to a new Koeberg power station.
Ten renewable energy plants, generating clean, green energy were also completed due to the funding.
"We switched on one unit of the Medupi power station that brought more energy to the grid than the electricity use of residents of two big cities combined - Nelson Mandela Bay and Mangaung.
"The R1 billion a day helped us to improve or repair more than 24 000 kilometers of roads and start to develop a modern urban public transport system," he said.
Government was also able to install solar water heaters, bringing the total to date to more than half a million units.
Approximately 100 kilometers of water pipelines that can convey billions of litres of water a week to communities and businesses were built, as well as 29 new medical clinics constructed and one new hospital opened.
"Behind these numbers are South Africans whose lives were improved.
"The R1 billion a day supported more than 200 000 workers now employed on the public infrastructure programme, as engineers, metal workers, plumbers, electricians, bricklayers, road-builders and construction workers.
"The investment helped millions of citizens in townships and suburbs to experience change in their lives," he said.