The Police Ministry is boosting efforts to ensure that the National Development Plan's vision for a safer South Africa is realised.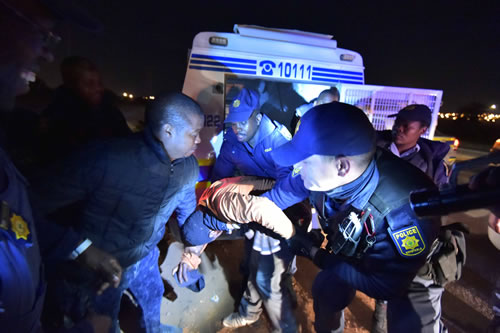 Police Minister Fikile Mbalula has vowed to deal with violent criminals. When he recently released the crime statistics for the 2016/17 financial year to the Portfolio Committee on Police, he said that murder and robbery remain stubbornly high despite a decrease over the past decade in serious community-reported crimes.
Every year, the police minister releases statistics to assess crime patterns in the country. They are also used to help strengthen crime- prevention operations.
The statistics measure 21 serious crimes. Seventeen are reported by the community and the other four are detected as a result of police-initiated operations. These include:
possession of firearms and ammunition,
driving under the influence of alcohol or drugs,
dealing in drugs.
"We have no time to waste time. Crime is delivering terror and grave harm to our people and the economy," he said. 
Minister Mbalula sent a stern warning to gang lords and violent criminals, saying their exploits will be matched with a proportional response to the nature of the violence they dish out.
He said that while community-reported serious crimes continually decreased during the last half of the 10-year period under consideration (2007/08 to 2016/17), the contact crime figures dropped initially during the first half of the 10-year period, but had increased over the last three years.
Despite the 1.8 percent decrease in community-reported serious crimes, individual categories such as murder and robbery with aggravating circumstances have tended to reflect an upward trend over the past four financial years.
Minister Mbalula said the SA Police Service has entered into a partnership with Statistics South Africa to give statistics more integrity.
"We simply cannot fight against an enemy we do not understand. We get to understand the patterns, the occurrences and types of crimes through the statistics so that we may plan accordingly," he said. The integrity of crime statistics is very important and the public must trust that no clever accounting has been done."
However the minister said figures should not only be taken as raw data as they represent "human lives and human emotions".
"Crime involves high emotions. We must not see statistics purely as numbers. Behind the numbers are real feelings, real lives, real harm, real losses, hurt and feelings of [being unsafe].
"These statistics represent the memory of that gruesome rape or murder, the fearful home invasion. People are losing their children to heinous crimes and drug dens. Our people have no-go areas due to criminality. I acknowledge that our people live under siege from crime," he said.
Murder on the rise
Meanwhile the police's head of statistics, Lieutenant-General Norman Sekhukhune, said despite a decrease in community-reported crimes, murder remained a challenge.
Murder was up by 1.8 percent during the 2016/17 financial year compared to an increase of 4.9 percent in the previous year.
He said sexual offences were down by 4.3 percent when compared to 2015/16 (-3.2 percent). Attempted murder went up by 0.4 percent in the current financial year, while assault with intent to do grievous bodily harm went down by 6.7 percent. Aggravated robbery went up by 6.4 percent while assault and  robbery went down by 5.2 percent and 1.3 percent respectively.