Government has heard and reacted to citizens' needs.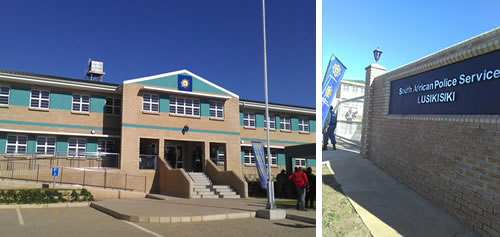 Police Minister Fikile Mbalula has opened a new police station in Lusikisiki in the Eastern Cape.
Built shortly after concerns were raised about crime levels in the area, the station will strengthen the fight against crime and enhance safety for those in and around Lusikisiki.
The town made headlines for gang-related violence, which saw President Jacob Zuma visit it to intervene through his Siyahlola campaign which monitors the delivery of state services.
During his visit, President Zuma promised the residents that government would soon be building a police station.
"We heard people's complaints regarding crime levels. We decided to respond to that and build a police station that will ensure that services are not only efficient but are brought closer to people as well," said Minister Mbalula.
Equipped with the latest technology, the spacious police station has received eight vehicles which should improve crime response.
"The vehicles will ensure that officers are out on the streets fighting crime and must not be used for private trips. Anyone who does that will be abusing these resources and we will not take it lying down," warned the Minister.
Meanwhile, Acting National Commissioner Lieutenant- General Lesetja Mothiba, who was also at the opening, encouraged closer co-operation between the police and the public.
"When the police and community work together, we achieve greater results," said Mothiba.