YOUTH
"ID YOURSELF" KICKS OFF IN CAPE TOWN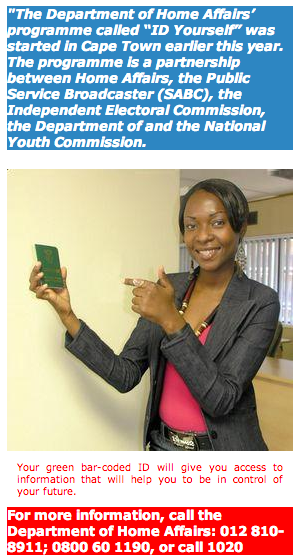 Young South Africans in their teens are reminded that they need to have the green bar-coded ID if they want to start their adult lives successfully.
With an ID document they are able to benefit from the advantages that all South African citizens have. These include access to learning, government support, travel and many other opportunities.
Mobile units
Over the next few months, the department will have mobile units at schools across the country as part of its outreach programme.
All learners of 16 years and older will get help with ID applications, information on the new process of late birth registration, re-issues of documents, and other matters related to getting an ID.
How to apply for an ID
 Take two ID photographs and a copy of your birth certificate to your nearest Home Affairs office, or to the mobile unit when it visits your area.
You will then have to fill in an application form giving all your personal details.
The officer in charge will take your fingerprints and submit your form along with your photographs and a certified copy of your birth certificate.
You can now await an SMS from Home Affairs confirming that they have received your application.
Remember to keep your receipt! It will enable you to track and trace the progress of your application by SMS. Just send the word ID number to 32551, or call the toll-free number 0800 60 11 90.
Late registration

If you do not have a birth certificate, ask your parents or relatives to go with you to apply for one. You will need to follow the late registration of birth application process. Your nearest Home Affairs office will help you with this information.
- BuaNews