IMBIZO WEEK
SAVE ELECTRICITY AND HELP MAKE A DIFFERENCE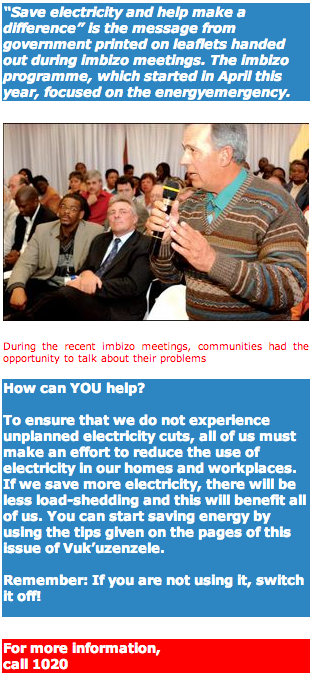 The energy emergency affects all of us. During imbizo meetings in April, government officials talked to communities about the problem and how everyone could help to save energy. 
Leaflets that were handed out gave some energy-saving tips. They also explained that the energy emergency has been caused by a sharp rise in the need for electricity over the last few years. This is because South Africa has experienced fast economic growth. As a result, many more households and businesses now have access to electricity. This means we are using more than what is available.
Light bulbs
Government has plans in place to solve the electricity problem. They include working with industry and Eskom to develop new sources of energy as quickly as possibly, and improving Eskom's ability to produce electricity. Emergency task teams are dealing with the problem of coal quality and supply in the coal-mining industry.
To help people save energy, government will start giving out free energy-saving light bulbs all over the country from May this year, especially to poor households. 
In KwaZulu-Natal, government has already given about 1,4 million energy-saving light bulbs to disadvantaged communities. 
Using these bulbs has resulted in about 129 megawatt of electricity being saved. This is enough to give power to more than 80 000 households.
Education
More than R1,5 billion will help to feed about 7 million school children this year. Over the next three years, R18 billion will be spent on school buildings and on equipment to make schools safer. Pre-school education will be accessible to even the poorest households. More money will be made available for the National Student Financial Aid Scheme and for further education colleges.
Problems
During the Imbizo Week, government officials talked to communities about the problems experienced in KwaZulu-Natal when handing out energy-saving bulbs. These included people not being at home or not knowing what wattage of bulbs they needed. Some people who got low wattage bulbs were unhappy that these were not giving them enough light.
When you decide on what wattage you will need, keep in mind that for rooms that don't need a lot of light, you can use a 14 watt bulb. For rooms that need more light, you will need a 20 watt bulb.
- Muzi Mkhwanazi
---
When you go on holiday, empty your fridge and switch it off