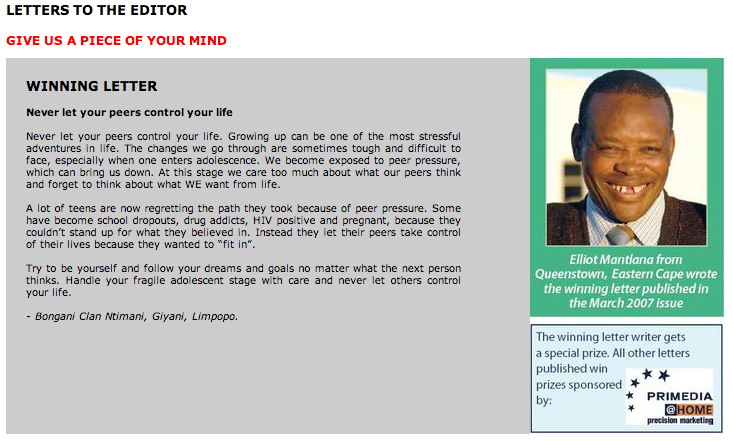 Protect yourselves
Government is doing a lot to teach people about HIV and Aids. Radio stations, magazines and television programmes are also doing their best to get the message across. There is even a lot of sex education at schools nowadays.
But it looks like we just don't want to learn. We don't want to empower ourselves as youths and as a nation on the whole. 
We are always blaming the government. Is it government's fault that we don't protect ourselves? Come on sisters and brothers, we can do this together. Let's learn to protect ourselves. Condoms are free.
- Monica Motshidisi Motaung, Vereeniging, Gauteng
We must deal with anger
The issue of what South Africa would become tomorrow is of great importance to all of us, because we all want to see an end to poverty, suffering, rape, violence and abuse. This is a battle we have to win at all costs. We have ended, destroyed and buried apartheid, we can also end and bury these horrific and totally unacceptable social ills.
There are many challenges in South Africa, but one of the most important is to deal with the trauma inflicted on our society in the past, which has now spilled over from the apartheid days into the present. No one has dealt with the anger, which has led to an increased violent society today. 
Until we deal with our rage, the violent nature of South Africans will not change. If we do, our mindset will change and we will become less violent.
- Tshepo Maki, Kimberley, Northern Cape.
Living a nice life
IMost people today think that living a nice life is all about partying and drinking a lot of alcohol. But if we take a look, these are the factors contributing most to poverty, divorce, road accidents, teenage pregnancy and the Aids pandemic. 
I'm not saying that people should not have fun, but if they could just have limits we will see an abundance of developmental changes in our beloved country. Instead of spending R3 000 on liquor, one can just sacrifice 10 per cent of it by doing something good for the poor.
- Lesiba Kekana, Doornfontein
Give rather than receive
Why are orphans and poor children regarded as burdens? They also have great desires to succeed in life. By sending just one of those who can't afford it to go to school or tertiary education, you can change a life and invest in the future. Let us proudly help our brothers and sisters. Together we can stop suicides, crime and poverty. Remember, a giving hand is more blessed than a receiving hand.
- Ntlhangwe Selopyane, Boksburg, Gauteng.
Believe in yourself
Some people find it difficult to believe in themselves, because they think there are people who are better than them. There is no one better than anybody else. Even though some people do better things than others, they are not necessarily better people. Don't give up on yourself even if the pace you are walking seems slower than other people's. Face the challenges by believing in yourself.
- Maselokela Mashita, Seshego, Limpopo
Healthy bodies and minds
To stay competitive in the modern world, today's youth need to have a good education. It makes me sad that there are still children who have to walk more than 10 kilometres to and from school. Because these kids arrive at school tired and without having had breakfast, they find it difficult to concentrate in class. 
After school, they must do household chores, which prevent them from doing their homework.
It is parents' and government's responsibility to ensure that every child in the country has transport to and from schools, and food to eat. 
As the saying goes: "A healthy mind comes from within a healthy body."
- Kenneth Mokone, Tafelkop, Limpopo
Life is precious
Parents, please support your children by fighting HIV and Aids with love. Give them counselling and guidance about unprotected sex. 
Children, don't mess with your lives - handle it with care. Don't date a stranger and have unprotected sex. Aids kills. 
You are the future of our country and the leaders of tomorrow. Remember life is precious.
- Eliza Limakatso Thabaneng, Middelburg, Eastern Cape
Books and computers
It is with sadness that we watch our children in rural communities destroying their futures. Many children have never seen or heard of a library and don't know how to handle a computer. They roam the streets after school with nowhere to go and nothing to do, and then we blame them for poor performance. 
Isn't it time we practice what we preach and get the resources and facilities to all our people to bridge the gap between the cities and the rural areas of the same country?
- Busisiwe Khuzwayo, Gahamstown, Eastern Cape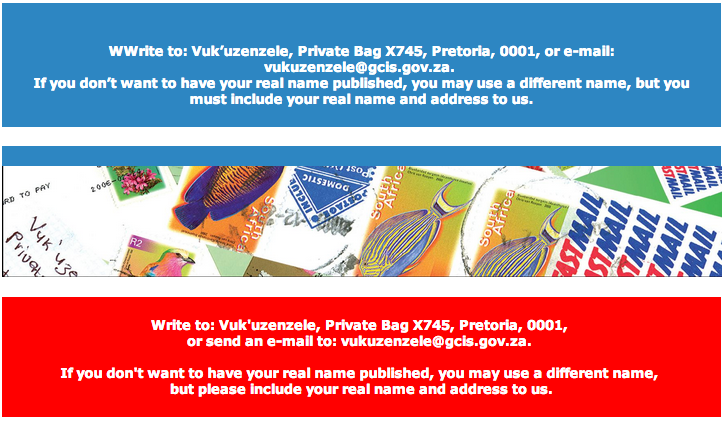 ---
Wash clothing in cold water rather than hot water; hot water uses a lot of energy
Hang your washing in the sun to dry rather than using a tumble dryer