DON'T LET ANYONE STEAL YOUR IDENTITY
PROTECT YOUR GOOD NAME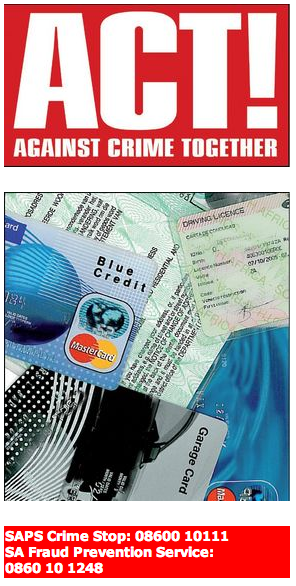 Soccer fever has hit the whole of South Africa. Mr Ndede (not his real name) had promised his children that he would buy a television set so that they could watch soccer together as a family. What he was told when he got to the furniture store really shocked him.
Stealing your name
He could not believe his ears when he was told that he couldn't get credit as he was blacklisted. This has happened even though he always made regular payments on his accounts. He never bought the goods at the store that accused him of not paying and led to his blacklisting. Mr Ndede was a victim of identity theft.
It could happen to you too if you lose your ID book or if it is stolen. The person who finds your ID or steals it could pretend to be you and steal your good name. 
He or she could even steal goods and services by applying for credit in your name and when these are not paid for, your good name for credit is affected. Some people have also been victims of marriage scams. They found out that they had been married without their knowledge.
Keep documents safe
It is important to protect yourself against this type of crime by protecting your identity document, driver's licence, passport and personal information.
Some useful tips
The following tips may help to prevent identity theft:
Keep your ID, passport and driver's licence in a safe place
Before you give any personal information, find out how it will be used and if the information will be kept confidential.
When you fill in personal details on documents, make sure the company you are dealing with is legal.
Keep a record of your accounts and follow up if they do not arrive on time.
Guard your mail from theft. Remove post from your letterbox after it has been delivered. If you go away from home, ask a neighbour to collect your post for you.
Carry only necessary information in your handbag, briefcase, wallet or purse and guard your ID book, credit card and bank cards
Do not give personal information on the phone, through the post or over the Internet, unless you have started the contact or know the people you are dealing with.
Keep items with personal information in a safe place. Tear or shred documents like credit applications, bank statements and receipts.
Give your ID only when absolutely necessary. Ask to use other types of identification, when possible.
What to do if your ID is lost or stolen
Report the theft of your ID at your nearest police station immediately and get a case number. Police stations are open 24 hours every day, so you don't have to wait for office hours. 
You should also contact the SA Fraud Prevention Service hotline 0860 10 1248, or go to the website and ask them to register your case. You will be given a protective registration number to quote when applying for credit in future.
- Capt Tshifhiwa Tshikhudo, SA Police Service
---
Use candles instead of electric lights where possible