The world soccer controlling body, FIFA, will give its full support to smaller businesses like bed and breakfasts, lodges and guesthouses to accommodate visitors in 2010. 
But to get FIFA's support, such places must be registered and must meet FIFA's standards. 
The Department of Environmental Affairs and Tourism, together with MATCH, is responsible for making sure that the 55 000 rooms needed for soccer officials, teams, VIPs, media and visitors are of a high standard. 
MATCH is an international company hired by FIFA and is responsible for accommodation, information technology and issuing of tickets for the 2010 World Cup. 
Grading Council
The Tourism Grading Council is a body started by government to make sure that places offering accommodation meet certain standards. They look at what places offer and give them a star rating in line with set conditions. 
Places will only be graded if they:
ensure safety and security of clients and staff;
have insurance, which protect the public;
have a health and safety certificate;
have fire and building regulations;
are registered as a business with the provincial authority;
do not discriminate on the basis of race, gender or citizenship; and
have smoking regulations.
MATCH
The role of MATCH in the grading process is to:
ensure that accommodation prices are fair and reasonable;
ensure easy access to accommodation;
promote the image of the FIFA World Cup;
promote the image of South Africa as a host country; and
identify accommodation which meet FIFA's needs.
Enterprise Programme
So far, the Department of Environmental Affairs and Tourism, through the Grading Council and MATCH, have graded about 30 000 rooms for 2010. 
To speed up the grading of small, medium and micro businesses, government has made R200 million available. 
Government also started the Tourism Enterprise Programme to help small businesses to meet the necessary grading standards by helping them to improve their businesses.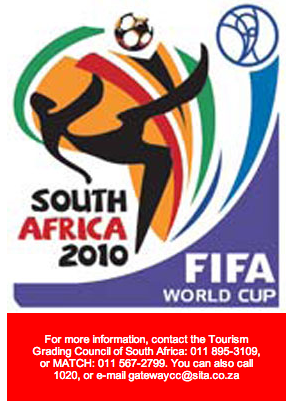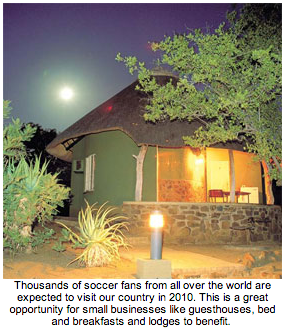 - Muzi Mkhwanazi