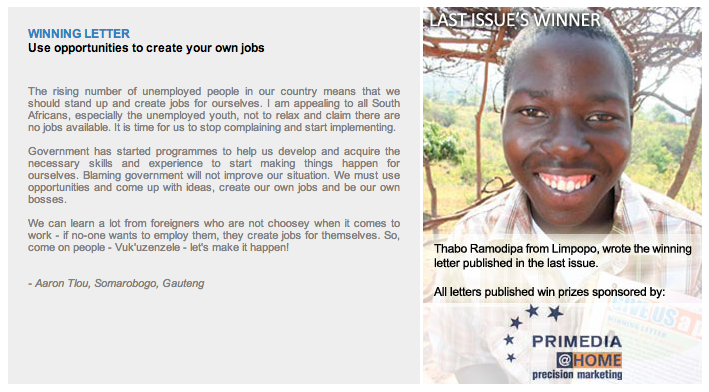 Let's be a place of peace
We South Africans should be ashamed of ourselves. The 2010 World Cup is just around the corner; we expect people from other countries to love and support our country, but we still have xenophobic attacks. Where is our spirit of ubuntu? Our country is supposed be a place of peace. So, let's say no to xenophobia and end the killing of our country and our fellow Africans. 
- Kganane Solly Kgotso, Driekop, Limpopo
Market yourself as a brand
Many women don't know how to present themselves to the world and project confidence. Why are women more hesitant about career opportunities than men? What's holding them back from asking what they want? Many confident people started out as shy people who were put in situations where they had to pretend to be confident. If you fake confidence, it will become real after a while. We live in a brand-obsessed world, so market yourself as a brand. If you believe in yourself, others will too. 
- Zukiswa Mqhomfeni, Port Elizabeth, Eastern Cape
Keep on knocking
Many young people complain about government failing to provide jobs for them, but they do nothing to find jobs. How do they expect employment if they don't even read a newspaper and look for jobs that are available. 
No-one is going to come knocking on your door and give you a job. You need to go out and market yourself. If the first office door is shut in your face, don't go home. Keep on knocking until someone lets you in. 
- Dudu Hope Letageng, Sekhukhune, Limpopo
Discover your dream
Having a dream helps you to look beyond your current circumstances. A dream will help you to prioritise the most important things in your life. A dream makes even the small things that you do exciting, because you know that they are helping you get closer to reaching that dream. 
Once you discover your dream, go after it. To develop your dream, think about it, be humble, have character, don't be complacent - just keep on believing you can do it! 
- Mokebe Tiisetso, Phuthadithaba, Free State
Choosing to act wisely
The youth of today don't care about the consequences of their actions. Every action has rewards and results. Life is about choices and you are the master of the situation. The choices we make determine our future. You win or lose according to your actions and choices, so choose to act wisely. 
- Thabile Malope, Bethal, Mpumalanga
Plant your own food
We live in times when nearly everything is rising. Basic healthy foods are becoming too costly for low-income or poor households. From personal experience I have seen how beneficial it is to have a vegetable garden at home. We have grown spinach, beans, peas, tomatoes and other vegetables. With these available at home, there is no need to spend extra money to buy them and we never go hungry. 
- Tumišo Mphahlele, Benoni, Gauteng
Informative and helpful
I am a grade 10 to 12 economics teacher and also teach other subjects. I find your magazine so informative and helpful for my lessons, especially when it comes to economic and business issues. The stories on how people try to improve their lives using government help and resources available to them are also very helpful. 
Now I am fully aware what government is doing to help the marginalised vulnerable citizens. Let's stop blaming the state and start doing something to improve and develop our society and our lives. 
- Ayanda Cwele, Harding, KwaZulu-Natal
Changed the way I look at life
I really love your magazine! Whenever I read Vuk'uzenzele, I find something inspiring inside. The topics that you publish really shed a different light on the way I look at life. Because of Vuk'uzenzele I have realised that one man can make a difference, but a team can change the world. 
To people out there, I want to say meet every challenge with courage, every obstacle with love, every disappointment with hope and every triumph with humility. 
- Mojakisame Peter Phomleli, Wepener, Free State
Say "no" to poverty
Ploughing and farming are the pillars of life. Now everybody in this country has a right to do so. This means nobody should be afraid to start farming or to start his or her own vegetable garden. South Africans are supposed to be good examples of ploughing the land. We should say "no" to poverty. By ploughing the land and farming we are producing food and making poverty run away. I call on all South Africans to follow the ploughing and farming trend. I believe poverty can stop if we all pull up our socks. 
- Harrison Gcinikhaya Saba, Mthatha, Eastern Cape