In the early 1970s, there was a serious shortage of oil in the world. This caused economic hardship. It was during this time that it was decided to get the world's most powerful economies together to find solutions to the world's problems. 
In 1975, seven rich countries came together to form what was then known as the world's group of seven industrialised nations. They became know as the G7 countries. Their aim was to work together to create a better world. 
These countries were the United States of America (USA), France, Germany, Italy, Japan, the United Kingdom (UK), and Canada. 
In 1994, Russia joined them and the name changed to G8. 
G8 Summit
Every year, the heads of government of these countries get together for a three-day G8 leaders' summit. This year's meeting was held in the resort area of Hokkaido near Tokyo in Japan. 
The aim of the summit is to discuss world problems like high food prices, aid to developing countries, terrorism, high oil prices and changes in the environment.
At the end of each summit, the G8 put out a final statement in which they explain how they plan to solve the problems faced by both the developed and developing nations. 
Group of 5
To make the summits more representative, a group of developing nations is also invited to attend. These countries are South Africa, India, Brazil, China and Mexico. They are known as the Group of Five (G5). 
The participation of the five developing nations ensures that they have common goals when solutions to world problems are discussed. 
South Africa's participation in the G8 summits has been a positive step for the whole African region. It gives a voice to the region and is in line with the G8's aim of creating a better world. 
African development
At the 2005 summit in Scotland, the G8 countries promised that by 2010 they would give 50 billion American dollars yearly for African development. This includes the fight against diseases like HIV and Aids, and malaria. 
Climate change
During this year's G8 meeting in Japan, they talked mainly about climate change and the food crisis. The food crisis, which is caused partly by oil prices and climate change, affects the whole world. 
Almost 40 per cent of the harmful gases in the world are produced by the G8 countries. These harmful gases have a negative effect on the world's climate. Climate change is causing drought and floods, which in turn cause food crops to fail. Reducing the harmful gases depends on the decisions and actions of the G8 countries.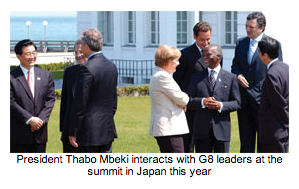 - Mbulelo Baloyi