Ntethelelo Shezi (16) of Inanda in KwaZulu-Natal has received the Coronavirus Disease (COVID-19) vaccine and his proud of it.
This comes after the Minister of Health, Dr Joe Phaahla  announced that children between the ages of 12 and 17 are now eligible for vaccination.
Shezi says after his mom, dad and older sister had been vaccinated, he was looking forward to his turn. When he heard that the vaccination programme had been extended to his age group, he went to the nearby Iqadi Clinic.
"I went there by myself because my parents taught me a lot about the vaccine. I knew that I might have some side effects, but so far, I am good," he says.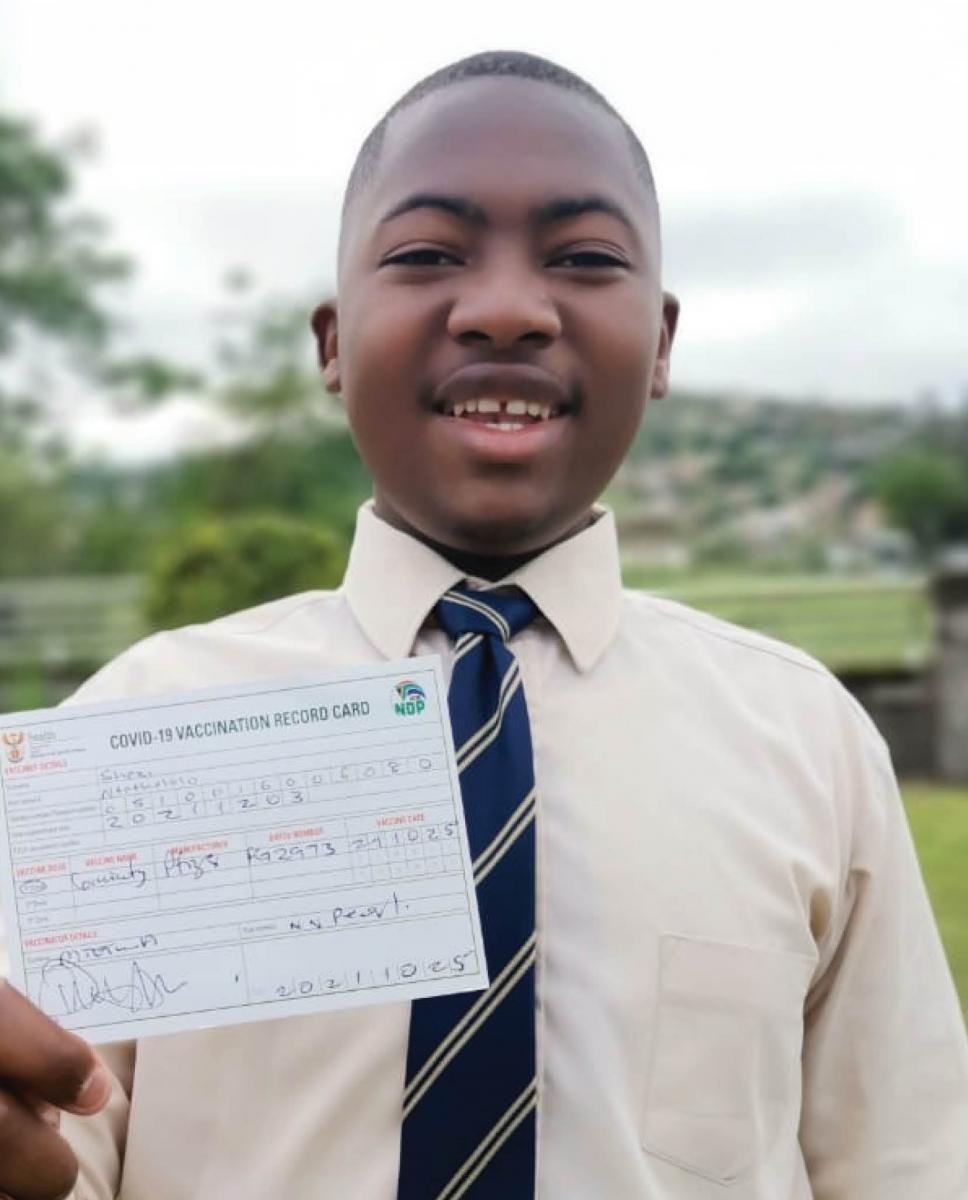 Shezi adds that when he talks to his peers about the vaccine, he reminds them of the freedoms they had before the COVID-19 preventative measures were implemented. This includes not having to wear a mask in public, being able to gather in groups, and not having to social distance.
"It is important to get vaccinated because we will get back to the normal life we used to live. We will be able to walk around without masks. After everyone has vaccinated, we will be free again," he says.
Education is key
Shezi's mother, Zinhle Makhathini, says she is relieved her son and his friends will now be protected and that the chances of them getting COVID-19 have been minimised.
Makhathini urges parents to teach their children about COVID-19 and the purpose of the vaccine.
"There is a lot of misinformation out there and, as parents, we have a responsibility to teach our children what the vaccine is about and why they need to take it.
"Once a parent has provided the correct information, children are less likely to be deceived," she says.
Children do not need consent from their parents to vaccinate, but parents are encouraged to have open discussions with them.
According to the Department of Health, as of 31 October, 22 381 951 people had been vaccinated since the start of the mass vaccination campaign in February. Among these were almost 100 000 children.
The Pfizer vaccine has been approved by the South African Health Products Regulatory Authority for children.
Register for vaccination by going to https://vaccine.enroll.health.gov.za/#/ or calling the COVID-19 call centre at 0800 029 999.
Ensure you take along proof of identity (such as the South African ID card, birth certificate with registration number, foreign passport, or any verifiable asylum/refugee proof of identity) when you  go to a vaccination site.
To find a vaccination site near you, visit https://sacoronavirus.co.za/active-vaccination-sites/
According to the Department of Health, you might have short-lived side effects after receiving the vaccine. The most common side effects include:
Pain, swelling, or redness where the vaccine was injected;
Mild fever;
Chills;
Feeling tired;
Headache;
Muscle and joint aches.