Written by More Matshediso
Theatre enthusiasts are invited to watch a groundbreaking and emotionally charged theatrical production where the power of love and the resilience of the human spirit intertwine with the echoes of a painful history.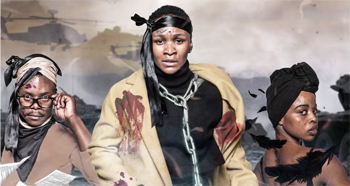 The South African State Theatre (SAST) invites audiences to come experience a captivating journey of invasion, defiance, and liberation with its latest dance theatre spectacle, titled "Magnificent 7 - The Invasion".
Producers of the show described it as a thought-provoking production that entwines dance, music, and storytelling to explore the themes of cultural erasure, colonial violence, and the resilience of the human spirit.
The performance started on 18 October and will end on 5 November.  It was produced by the multi award-winning Choreographer and playwright Mduduzi Nhlapo who is also the Associate Artistic Director of the SAST.
Nhlapo joins ventures with the award-winning music writer, composer, rapper, and musical director Kabelo Togoe better known as Bonafide Billi and his assistant musical director Thapelo Skhosana.
"Magnificent 7 - The Invasion' delves into the complexities of love and resistance in the face of historical atrocities, it is love drenched in war" said Nhlapo.
The play tells a story of the brave Vincent Tendaji Abiola, who is portrayed as standing at the cliff of a transformative journey, driven by an insatiable desire to reclaim his people's misrepresented history, to rewrite the narrative that has long been distorted by invasive colonial powers.
Onset, the play portrays a vast African landscape where ancient traditions and vibrant cultures coexist.
"Magnificent 7 - The Invasion" intricately weaves together the heart-wrenching love story between Tendaji and Olori, his equally supportive intellectual wife.
Their powerful bond becomes the driving force behind his pursuit of rewriting history.  With each day passing, he becomes more encouraged to defy the oppressive doctrines that have suppressed his people's voices for far too long.
The play stars the industrious Noxolo Dlamini who recently won the SAFTA for Best actress in the feature film 'Silverton Siege". Her character mirrors the resilience and strength demonstrated by women who have endured immeasurable pain and suffering under the yoke of oppression.
Her story is a testament to the timeless struggles faced by black women, as she becomes a beacon of hope and resilience amidst the darkness of exploitation and objectification. Alongside Dlamini is a villainous character played by the explosively racy Tina Mogotsi who embodies cultural despotism and hegemony.   
This production masterfully combines edgy choreography, compelling music, and stunning visuals to bring to life the profound love story drenched in war between Tendaji and Olori.
"Through the mesmerising choreography and emotional performances, we aim to shed light on the often-untold stories of black women who have been both victims and catalysts for change throughout history. But furthermore, we aim to make dance theatre more relatable to the general masses as a powerful tool for embodied narratives and biographies," said Nhlapo. 
Audiences will witness their unwavering support for each other as they navigate the treacherous waters of colonialism and fight to reclaim their identity and narratives. 
Cast members include Noxolo Dlamini, Tina Mogotsi, Mduduzi Nhlapo, Thabiso Mfusi, Sibonelo Mchunu, Zaza Cala, Kevin Shoba and Simbone Qonye
Chorus is delivered by Nelson Malahlela, Thando Mghobozi, Thula khanyile, Dineo Mapoma.
Tickets to the show can be purchased online: www.webtickets.co.za or at any Pick n Pay store and SAST box office.