A group of skilled seamstresses united to establish Reotlwile-Sizwele Sewing Primary Cooperative, a thriving business located in the township of Ratanda in Heidelberg, Gauteng.
The cooperative's chairperson Esther Moloi attributes its success to a business startup training programme facilitated by the Department of Employment and Labour (DEL) in 2003.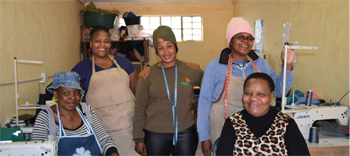 "We were trained by the DEL to start our own business instead of sewing individually from our homes. We eventually came together and formed a business," she said.
Reotliwe-Sizwele Sewing Primary Cooperative started in 2007 and has since grown in leaps and bounds.
Currently, six women work in the company but casual workers are brought in whenever a need arises. They sew and supply school uniforms, wedding garments, outfits for events, and corporate and church uniforms.
The cooperative recently had an intake of eight young people who completed grade 12 who came through the Harambee Youth Employment Accelerator to gain experiential training in sewing.
To grow its client base and get more opportunities, the cooperative registered on the Department of Social Development database.
 "This has helped us a lot and we now get projects from the department and serve a large pool of clients," shared Moloi.
The cooperative also works with other large institutions that include the South African Local Government Association, South African Social Security Agency and Tswinyane Adult School, amongst others.
In 2022, it received funding totalling R97 439. 66 from the National Development Agency (NDA).
"The funding helped us to buy modern equipment including the hector sewing machine that is faster and saves energy," concluded Moloi.
Contact:
Reotlwile-Sizwele Sewing Primary Cooperative
Cell: 078 551 4587
E-mail: reotlwelesizwele@gmail.com
For more information about the NDA, visit: www.nda.org.za or call: 011 018 5500 or email: info@nda.org.za
DEL: 012 309 4000 or email: dol.customercare@labour.gov.za