Skin-to-skin contact between mothers and their newborn infants fosters better bonding and happier, healthier babies.
South African hospitals are taking inspiration from nature to save the lives of babies born prematurely, using a practice known as Kangaroo Mother Care (KMC).
Also known as skin-to-skin care, this is a simple, cost-effective method of caring for newborn babies, where the mother uses her own body temperature to keep her infant warm. It is similar to how mother kangaroos keep their infants warm in a special body pouch.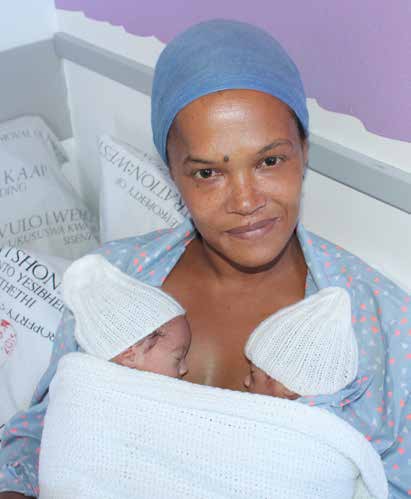 KMC has been adopted by the Western Cape Government in all of its healthcare facilities to decrease the number of deaths amongst newborn babies. 
"KMC refers to the practice of providing continuous skin-to-skin contact between mother and baby, exclusive breastmilk feeding and early discharge from hospital. KMC is an especially important intervention for babies who are born prematurely," explains Western Cape Government spokesperson Monique Johnstone.
Trevlynn Moses (31) from Tafelsig, Mitchells Plain, went into premature labour and delivered her twin baby boys six weeks early.
"I could definitely see the benefits of KMC with my babies because their weight improved within the first three days; they were breastfeeding nicely and I really developed a strong bond with them," said Trevlynn.
"To KMC my babies took minimal effort. My babies were dressed in just their nappies with their heads covered with a cap and placed in an upright position against my bare chest, and we were covered with a blanket for warmth."
At Mowbray Maternity Hospital, KMC has achieved a 90 percent success rate. Karlien La Grange, an assistant nursing manager at the hospital, said that all parents with premature or underweight newborns are encouraged to use KMC.
"It is an effective way to help meet a premature baby's basic needs for warmth, nutrition, stimulation and protection from infection. Babies who receive KMC are less stressed, you hardly hear the baby cry, better bonding takes place between the baby and mother or family member, and it improves latching and breastfeeding," La Grange explained.