Written by: More Matshediso
The Independent Electoral Commission (IEC) is making sure that voters are not misguided by disinformation.
Disinformation can constitute hate speech or incitement to violence against certain groups in the society.
To fight against digital disinformation, the IEC has turned to The Real 411 website to allow members of the public to report instances of digital misinformation about the upcoming local government elections that are scheduled to take place on 1 November 2021. The website is https://www.real411.org and anyone can access it.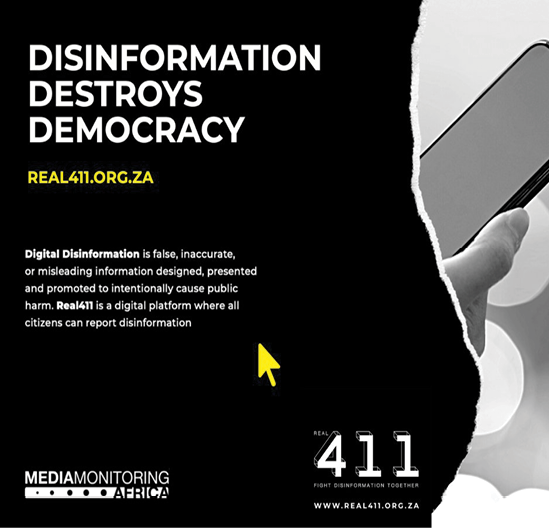 Disinformation is defined as false, inaccurate or misleading information designed to cause harm. Through the website, members of the public can report four types of digital offences: disinformation, hate speech, incitement to violence and journalist harassment.
"The digital disinformation reporting platform forms part of the work of the Directorate of Electoral Offences. The directorate was established ahead of the 2019 National and Provincial Elections to investigate alleged breaches of the Code of Conduct and prohibited conduct," the Commission says.
The Commission came up with this innovative website due to rise in disinformation, especially through digital platforms, and its potential impact on elections.
The platform was developed in conjunction with Media Monitoring South Africa, a non-governmental organisation that focuses on promoting independent, accurate and impartial reporting on elections.
Complaints will be considered by a panel of experts, including those with expertise in media law, social and digital media.
The panel will make recommendations for possible further action by the Commission.
The action could include:
•  Referring the matter for criminal or civil legal action.
•  Requesting social media platforms to remove the offensive material.
•  Issuing media statements to alert the public and correct the disinformation.
Complaints relating to alleged breaches of the Code of Conduct must be submitted to the Electoral Court or the Directorate for Electoral Offences.
The Secretary of the Court Annerie Vorster can be contacted by email: Avorster@sca.judiciary.org.za / Annerievorstersca@gmail.com or call 051 492-4665.
The Electoral Commission's Directorate for Electoral Offences can be reached via email at legalservices@elections.org.za