South Africans will have to adhere to stricter lockdown regulations as government takes precautions to deal with the third wave of the Coronavirus Disease (COVID-19). 
President Cyril Ramaphosa placed the country on Alert Level 3 to stem the rising infections.
"We have to act decisively and quickly to save lives," said the President, in an address to the nation.
Four provinces – Gauteng, Free State, North West and Northern Cape – are officially in a third wave, while others are not far behind. Gauteng has been the worst hit.
"The increase in infections in Gauteng is now faster and steeper than it was at the same time in previous waves.
"Within a matter of days, it is likely that the number of new cases in Gauteng will surpass the peak of the second wave. Private hospitals in the province have reported that they are near capacity," added President Ramaphosa.
He said that based on experience from the previous two waves and from around the world, when health facilities are overwhelmed more lives are lost.
For this reason, at this stage government's priority is ensuring there are enough hospital beds, health workers, ventilators and oxygen to give the best possible care to every person who needs it.
Restrictions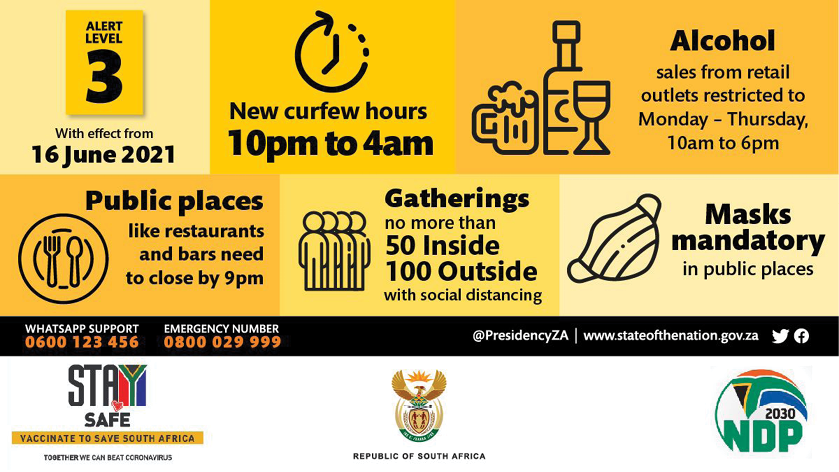 "The massive surge in new infections means that we must once again tighten restrictions on the movement of persons and gatherings," he explained.
The move to Alert Level 3 means that:
The hours of curfew start at 10pm and end at 4am.
Non-essential establishments like restaurants, bars and fitness centres must close by 9pm to allow their employees and patrons to travel home before the start of the curfew.
All gatherings have been limited to a maximum of 50 people indoors and 100 people outdoors. Where the venue is too small to accommodate these numbers with appropriate social distancing, then no more than 50% of the capacity of the venue may be used. This includes religious services, political events, social gatherings, restaurants, bars, taverns and similar places.
Attendance at funerals and cremations cannot exceed 50 people and all social distancing and health protocols must be observed. Night vigils, after-funeral gatherings and 'after-tears' gatherings are not allowed.
The sale of alcohol from retail outlets for off-site consumption is only permitted between 10am and 6pm from Monday to Thursday. This excludes public holidays. Alcohol sales for on-site consumption is permitted as per licence conditions up to 9pm. Alcohol consumption in all public spaces is strictly forbidden.
Saving lives
President Ramaphosa said government has been careful to ensure that it acts appropriately and timeously to protect lives and the economy.
"We have therefore closely monitored the data and heeded the advice of our experts and scientists.
"The measures we are putting in place now are appropriate to the level of risk and necessary to save lives."
He stressed that several important measures remain in place under Alert Level 3.
"It remains mandatory for every person to wear a face mask that always covers their nose and mouth at all times when in public spaces. It is a criminal offence not to do so."
The owners and managers of public buildings, centres, shops, restaurants, taxis and buses must ensure that people on their premises or in their vehicles wear masks.
Vaccination drive
South Africa's vaccination drive has experienced a number of delays since it was rolled out.
Phase one of the programme resulted in 480 000 health workers receiving the Johnson & Johnson (J&J) vaccine.
Phase two of the programme has seen health workers and people over the age of 60 receiving the first dose of the Pfizer vaccine.
South Africa's supply of the J&J vaccine was held up by an investigation into contamination of ingredients at a supplier factory in Baltimore in the United States that saw around 60 million doses affected worldwide.
The President said the problems with the J&J vaccine have now been resolved.
"As a result of these problems, two million doses that had already been produced are unusable. The Aspen plant in Gqeberha in the Eastern Cape is now able to go ahead and produce new doses."
About two million J&J vaccines were expected to be delivered to South Africa by the end of the June.
"The initial doses we receive from J&J will be used to vaccinate educators in our schools and thereafter security personnel on the frontline," explained President Ramaphosa.
By the end of June, South Africa was also expected to have received a total of 3.1 million Pfizer doses.
The President urged all South Africans over the age of 60 to register on the Electronic Vaccination Data System and get vaccinated without delay.