An organic food  farm is supporting the needy and bringing together a community, while also generating an interest in agriculture.
Mawande Sigwinta (29) is on a quest to restore ubuntu and promote self-reliance in his small community of Strand in the Western Cape.
Sigwinta, who is originally from Sibangweni in the Eastern Cape, established organic food farm I-Afrikayam to provide fresh, nutritious vegetable soup to patients at the local clinic while they wait to collect their medication.
"I-Afrikayam started in July 2019, when we planted the first seeds. I thought an initiative that promotes self-sustainability and self-reliance would be good for the community and restore ubuntu," says Sigwinta, who is studying towards a PhD.
The soup is made from ingredients grown on the farm and serves as a pre-meal to enhance the efficiency of the patients' treatment.
"Most treatments require nutritious meals that many people who live below the poverty line cannot afford," he adds.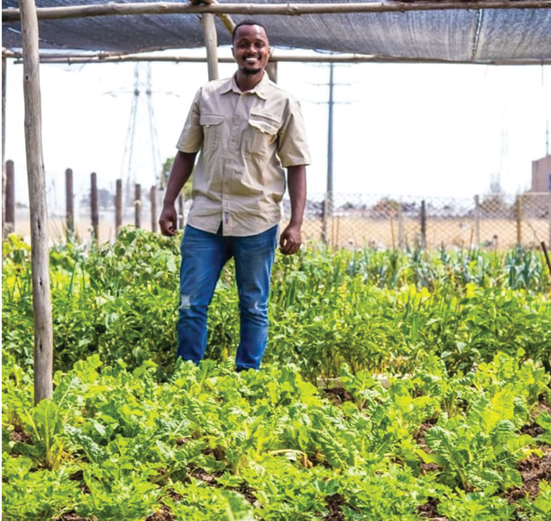 Sigwinta says he also started the farm to attract young people to agriculture.
"Most youth still perceive agriculture as a field for uneducated and poor people.
"Organic farming is very important, but most people are not aware of the health benefits of organically grown vegetables. Those who do know, cannot afford them."
Sigwinta was awarded R120 000 to start a food security project by the Western Cape Department of Agriculture. He also invested his master's degree funding to expand the farm.
"To remain self-sustainable, we started by selling packaged and unpackaged vegetables to the informal market. We also run a restaurant, where we sell meals that are prepared from our harvested vegetables," he says.
As with any new enterprise, Sigwinta has endured some challenges along the way, including access to smallholder farm funding for infrastructure, agri-processing and operating equipment, marketing tools and labour.
"Due to a lack of funds, I have to do everything myself. Sometimes friends and non-profit organisations assist on a voluntary basis, as I cannot afford to pay salaries."
Despite these challenges, Sigwinta continues to forge ahead.
"Many households have bought into the idea of self-sustainability and self-reliance through agriculture, and vegetable cooperatives have been developed by ordinary community members.
"We have converted a hopeless piece of land into a people's go to space for hope restoration," he says.