Written by Silusapho Nyanda
People with disabilities in Knysna in the Western Cape have been taking charge of their lives through training in carpentry, stenciling and sewing.
The Knysna Association for Persons with Disabilities (KAPD), which recently received almost R100 000 in grant funding from the National Development Agency (NDA), trains 25 beneficiaries at its workshop, called Die Werkswinkel, in Hornlee.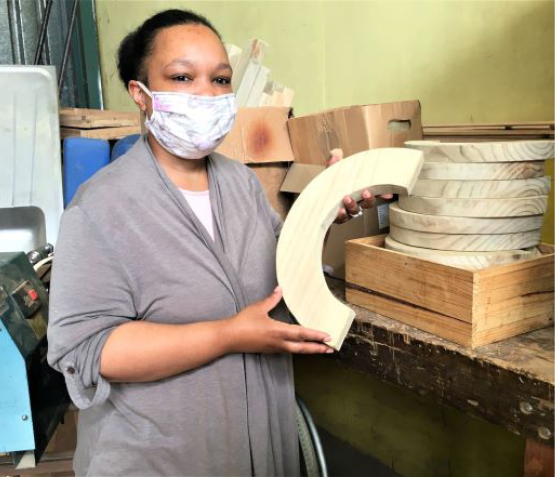 The skills programme teaches participants how to make furniture, dog kennels, coffins, cushions, bags and aprons. These are sold to locals and tourists at a shop at Knysna's Woodmill Lane shopping centre.
"The work we do here restores dignity, instills independence and gives purpose to our beneficiaries.
"We want to grow our market base as we will offer even more products in less time and are open to linkages with other organisations," says Veronique Fortune, the manager of KAPD.
The manager of Die Werkswinkel, Edwin Pedro, who has a polio-related disability and needs crutches to walk, says he has gained 27 years of experience, thanks to the KAPD.
He works with two qualified carpenters, a builder and glazer, as well as 19 other general workers, who assist with cutting, sanding, varnishing, cleaning, sales and deliveries.
The KAPD has helped mother of three Diane Kleynhans, who has a hearing impairment, put her children through school.
Kleynhans, a skilled seamstress, has been part of the KAPD for 25 years.
"Everything I know, I learnt here. We have helped many people here; some have started their own businesses. For the rest of us, this is our home," she says.
The association also offers professional social services, upliftment programmes and support groups for parents raising children with disabilities. It also runs the Little Angels day care centre.
NDA's Western Cape manager Ardiel Soeker says the NDA's association with KAPD is line with its mandate of poverty eradication.
"We measure the impact by measuring household poverty indicators such as job and income generation opportunities, programme responsiveness to a social issues and sustainability. We are pleased with this partnership and are positive it will yield good results," says Soeker.
The NDA funding will be used to buy machinery, equipment, materials and resources to improve output and administrative and logistic functions. 
For more information contact Die Werkswinkel at 044 385 0126.