Written by Kgaogelo Letsebe
A young woman turned lemons into lemonade during South Africa's strict Coronavirus lockdown.
When Tinyiko Mabunda (26), pictured, started a new hobby to keep busy during the tough months of the Level 5 lockdown due to the Coronavirus in 2020, she had no idea that it would lead to her becoming an entrepreneur.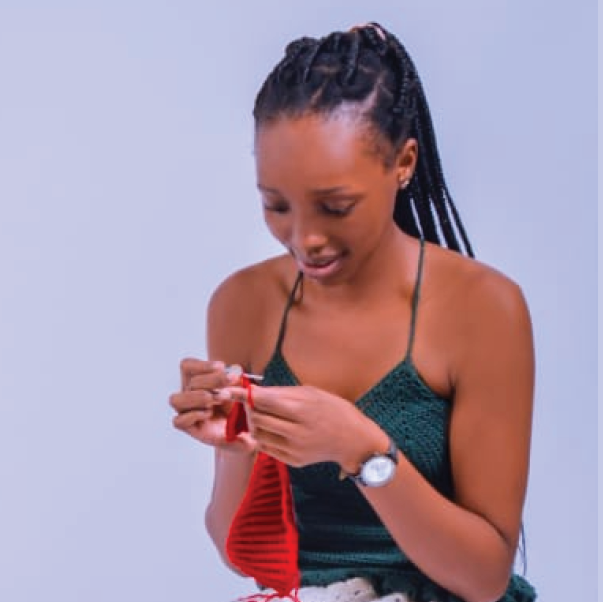 "When I started crocheting with my mom, the aim was not to start a business but to develop a skill. However, after I saw the love people had for my crocheted clothes, I was encouraged to start a business."
Mabunda, from Bushbuckridge in Mpumalanga, says with shops forced to close, it was hard to find the materials she needed in the initial months of the lockdown.
"My mom came up with the idea of using plastic for my designs and we used that to crochet a summer hat, bag and a waist belt. This taught me that you can start whatever you want, despite minor challenges," says the Bachelor of Education student.
Although she struggled to master crocheting, Mabunda's mom didn't give up on her and, as a result, the young entrepreneur is today producing a range of clothing that includes swimwear, jerseys, cardigans, beanies, skirts, hats and even customised designs. She prides herself on ensuring that her work is neat, as taught by her mother.
"I named my company after my clan name, Vahlave, and believe this will help my business create a legacy not just for me, but for others who will come after my generation," she says.
Mabunda currently works with a fellow student and community member, Ayanda Lamula, to fill orders and says her vision is to establish a boutique and factory.
"My passion for teaching will manifest in this manner, as I am willing to teach anyone from any part of the country to crochet. I also want to teach children how to crochet because there was a time when our parents were taught how to sew and crochet in school."
Mabunda says that while formal education is important, the youth should also learn to do crafts and
handiwork.
"This will help them to not focus on one thing. If people earn a qualification but cannot find employment, they will then be able to create a living for themselves and support their families," she adds.