A partnership between the Mpumalanga Department of Education (DoE) and Telkom will help bridge the digital divide for learners and teachers in underprivileged communities.
Through the provincial e-learning programme, the Mpumalanga DoE will provide 6 700 teachers with laptops and 55 000 Grade 12 learners with tablets. The devices will be given to quintile 1, 2 and 3 schools in the province, which are situated in disadvantaged communities.
 As the connectivity partner, Telkom will provide free monthly data.
"This programme is evidence of our commitment to equipping the Grade 12 class with the tools that will optimise their learning," said Mpumalanga Premier Refilwe Mtshweni-Tsipane at the launch, which was held at Ubuhlebuzile Secondary School in Mkhondo Local Municipality.
"There is more to these technological tools that we are handing over today. They are the fruits that stem from the fourth industrial revolution that we are in and are catalysts of change," she said.
In with the new
Ubuhlebuzile Secondary principal Nsizwa Hlatshwayo said the e-learning programme will give his students immediate access to past papers, study guides and a wider variety of study material.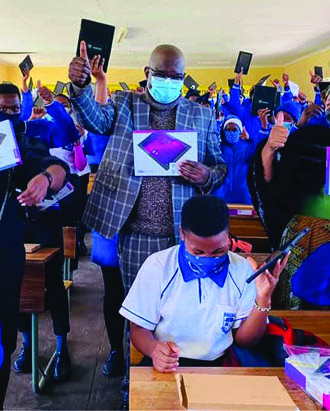 "We have spoken to the learners about keeping their tablets safe and well looked after," he added.
Andile Thwala (17), student representative council leader and Grade 12 pupil, was the first to receive a tablet.
"These devices have had a great impact on how and when we study. Previously, we couldn't study online and we also didn't have access to other material. We now have it all, plus WhatsApp groups with the teachers so we can help each other – even after school hours."
Thwala said his Grade 12 classmates are in high spirits after receiving the tablets.
"We know and understand that we have to be responsible but at the same time we are hopeful that this e-learning programme will improve their performance."
Mpumalanga MEC of Education Bonakele Majuba said the programme roll-out will be spread across various districts. "The quick delivery of devices will enable teachers and learners to utilise the devices to cover lost ground and to improve the teaching and learning process," he said.
Telkom has also committed to upskilling 1 500 unemployed youth and training 10 000 teachers to enable them to train other educators on how to use digital tools for remote learning.