Government will help residents of KwaZulu-Natal and the Eastern Cape rebuild their lives and homes after floods recently left a trail of death and destruction in the two provinces.
President Cyril Ramaphosa said National Treasury will make money available for relief efforts to help those affected by the floods.
"The Minister of Finance has said that R1 billion is immediately available," he said.
President Ramaphosa will also approach Parliament for additional resources.
Government is working with the Solidarity Fund, private sector and non-governmental and community-based organisations to support victims.
The Solidarity Fund will set up a separate bank account for the flood disaster for South African and foreign donors to contribute to relief efforts.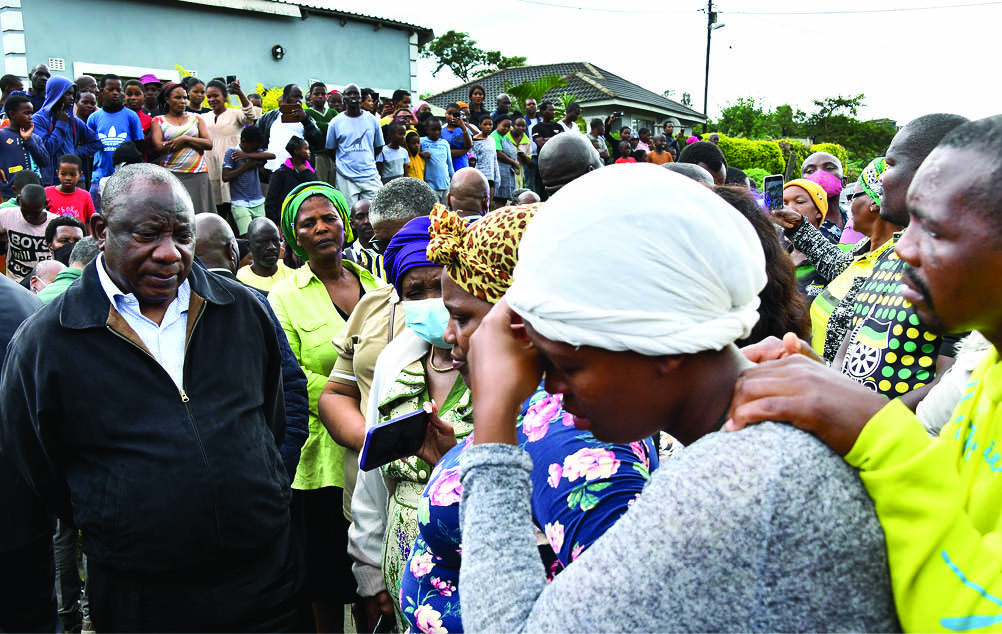 Government will also provide vouchers to help households rebuild partially damaged houses, the President said.
"A comprehensive assessment of the economic cost of these floods still has to be made, but it is clear that it will run into billions of rands for the rebuilding of infrastructure and loss of production."
He added that the money set aside for the flood victims must reach those who need it the most.
"It will be critical, as we undertake this work, that all the resources we mobilise are used for their intended purposes and reach the intended recipients. There can be no room for corruption, mismanagement or fraud of any sort," the President stressed.
Three-phased response
President Ramaphosa said government will respond to the disaster in three phases.
It will first focus on immediate humanitarian relief, ensuring that everyone affected is safe and their basic needs are met.
"Second, we will focus on stabilisation and recovery, rehousing people who have lost homes and restoring the provision of services. "Third, we will focus on reconstruction and rebuilding," he said.
The reconstruction and building phase will include the construction of houses in suitable areas.
The Department of Human Settlements has already begun an assessment of damages to houses across the province.
"An immediate task is to house those people who have been displaced by the floods and preparations are underway to provide temporary residential units," said President Ramaphosa.
The Department of Public Works and Infrastructure is identifying suitable state land that can be used for resettlement.
Extensive damage
The rains caused extensive damage to houses; businesses; roads and bridges; water, electricity, rail and telecommunications infrastructure. Schools, health facilities, police stations and magistrates' courts were also affected, along with fuel and food supplies.
"It is estimated that over 270 000 learners were affected and over 600 schools were damaged, 16 of which cannot be accessed due to damage to connecting roads and bridges.
"Sixty-six public healthcare facilities were affected, although there has been minimal disruption to health services in most affected districts," the President said.
Extensive work is underway to restore basic services to various areas in KZN.
More than 400 people have lost their lives in KZN and many people are missing. One death has also been reported in the Eastern Cape.
Over 4 000 homes have been destroyed and 8 300 have been partially damaged, leaving 40 000 people homeless.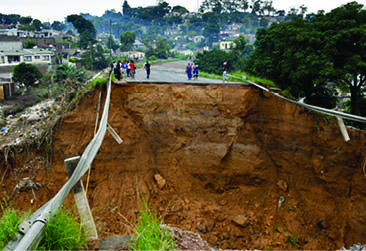 The President said that the South African Police Service (SAPS) and the South African National Defence Force (SANDF) have been leading search and rescue efforts.
This includes the deployment of SAPS personnel, diving teams, canine units and various vessels, helicopters and fixed-wing planes to the most affected areas.
"Aircraft from the SANDF have been used both for rescue and for the delivery of relief supplies – such as food, water, tents and blankets – to people in inaccessible areas.
"I have authorised the SANDF to bring in more personnel, water storage and purification supplies and engineering teams to assist with electricity and water restoration," he said Government departments at national and provincial levels; municipalities; non-governmental organisations and businesses have been distributing basic relief materials such as food, blankets, mattresses, clothing, chronic medication, toiletries and cooking utensils.
 Cabinet recently declared a National State of Disaster in response to floods.
The President described the floods as a humanitarian disaster that called for a "massive and urgent relief effort."
"The lives, health and well-being of thousands of people are still at risk. The floods have caused great economic and social damage," he said.
The Port of Durban, which is vital to South Africa's economy and is one of the largest and busiest shipping terminals on the continent, has been severely affected.
"The significance of the Port of Durban and related infrastructure for the effective operation of the country's economy means that this disaster has implications far beyond KZN," said the President.
Progress has already been made in restoring operations at the Port of Durban, opening alternative routes for trucks to access the port terminals and clean up debris in the harbour.