The North West has gained nine new graduate veterinarians, who will be assisting communities in the prevention of disease, animal treatment and livestock production education while also gaining experience in the animal health sector.
"These new appointees are coming at an interesting time because the province has had its first outbreak of foot and mouth disease, which will give them exposure to disease control and management," said the Department of Agriculture, Land Reform and Rural Development (DALRRD) Veterinary Services Director Dr Langa Madyibi.
He said the programme will offer a wide range of experience and challenges that will need the graduates to think strategically.
"They will also need to embrace working in villages and execute quality services with limited resources as they have to uphold the public service mandate at all times," said Dr Madyibi. 
Narissa Naicker (27), from Springs in Gauteng, has been placed with the Mothutlung State Vet and encourages young black females to study veterinary sciences as it is regarded as a predominately white industry.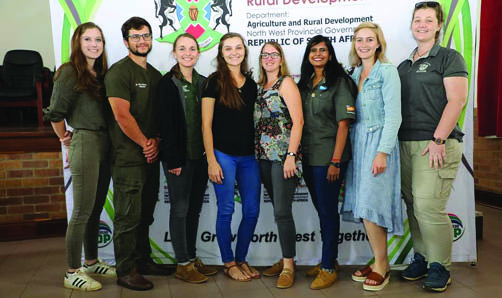 "There is ample opportunity to make a difference in our communities because we have been afforded the privilege that our parents previously didn't have as black people in South Africa," said Naicker.
Subjects needed at high school level to gain entry to the veterinarian course are mathematics and science (chemistry, physics or life sciences).
The University of Pretoria's Faculty of Veterinary Science is the only institution in South Africa where people can study to become a veterinarian or veterinary nurse.
Veterinary students in their fifth year of study are contacted by DALRRD to be allocated to a facility within South Africa.
This is part of the process of being a qualified veterinarian which sees students vets being placed across the country for their 12 months of compulsory community service (CCS).
During this period, they offer services to rural communities, while gaining valuable experience and knowledge through the mentorship of seasoned vets from the department.
Each student vet is assigned a mentor or supervisor for the year and works directly under their guidance and supervision.
For more information on the application process of studying towards being a Veterinarian call the University of Pretoria on 012 420 3111.