As children and teens now have access to technology and the internet, bullying is no longer limited to face-to-face taunting in schoolyards or on street corners.
According to the South African Police Service (SAPS), cyberbullying occurs when a person uses the internet, email, text messages, instant messaging, social media, online forums, chat rooms or other digital technology to harass, threaten or humiliate another person.
The effects of cyberbullying can be devastating, leaving children feeling hurt, humiliated, angry, depressed and even suicidal.
Spot the signs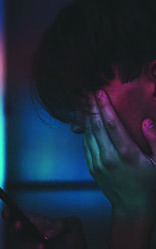 No matter how much pain it causes, children are often unwilling to tell adults that they are being cyberbullied. 
Signs that a child is being cyberbullied include:
Becoming sad, angry or distressed during or after using the internet or a cellphone.
Appearing anxious when receiving a text or email, or have been on social media.
Avoiding discussions or being secretive about computer or cellphone activities.
Withdrawing from family, friends and activities they enjoyed.
Refusing to go to school or specific classes, or avoiding group activities.
Having mood, behaviour, sleep or appetite changes, or showing signs of depression or anxiety.
Tips for children
Children who are being cyberbullied should:
Not respond. Your reaction is what the bully wants.
Not retaliate. Responding with similar threats reinforces the bully's behaviour.
Save the evidence. 
Block the bully or leave the chat room. 
Report abusive comments to the social media website's administrators.
Talk to a friend or a trusted adult.
Tips for parents
Parents can help prevent their child from being cyberbullied by:
Monitoring their technology use.
Keeping the computer or other technology in a busy area of the house, rather than in the child's bedroom.
Setting up filters on technology.
Using tracking software to block inappropriate content.
Knowing your child's passwords.
Encouraging children to talk to a trusted adult if they are targeted.
Teaching children to not share their details and passwords online.
Encouraging children to talk to you about their online life.
Teaching children to not put anything online that they don't want their classmates to see.
Teaching children to not send messages when they are angry or upset.
If your child is a cyberbully
Parents who know their child is a cyberbully should:
Educate the child about cyberbullying and how hurtful or damaging it is. 
Encourage the child to look at their actions from the victim's perspective. 
Remind the child that cyberbullying can have serious legal consequences.
Set technology limits.
Make sure your child understands your technology rules and the punishment for breaking them.
Information courtesy of the SAPS.
If your child is being cyberbullied, you can contact your closest police station or call Crime Stop at 08600 10111 for help.