Phase 2 of the country's Coronavirus Disease (COVID-19) vaccination programme is underway, with citizens over the age of 60 receiving their vaccines from 17 May.
Eighty-seven vaccination sites across the country opened their doors to the elderly at the start of Phase 2.
Health Minister Dr Zweli Mkhize said the number of vaccination sites will increase as Phase 2 progresses.
He explained that government's strategy to immunise citizens who are aged 60 and above, as part of the second phase, is due to the elderly being one of the most vulnerable groups who could become ill or die as a result of COVID-19.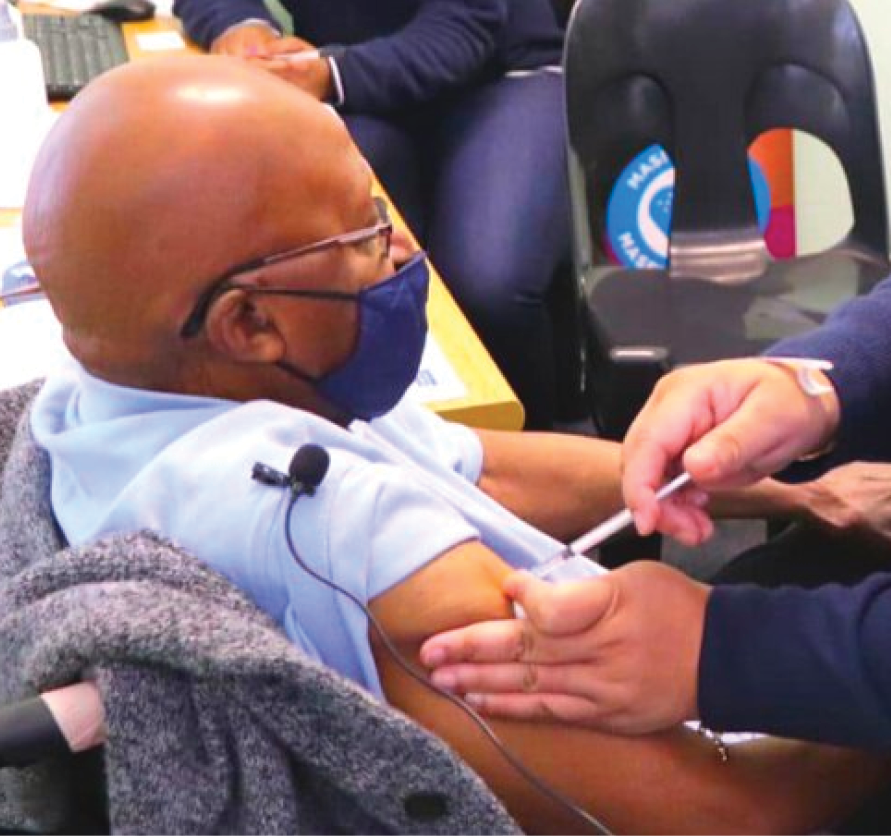 Religious leaders were among those who received their vaccines at the start of Phase 2.
Reverend Frank Chikane, the Senior Vice President of the South African Council of Churches (SACC), was vaccinated at the Esangweni Community Health Centre in Tembisa.
"We came here because we wanted to show the way 
As leaders we wanted to show that vaccines don't kill, they help you," he said.
Chikane added that South Africans are no strangers to vaccines and that most people were vaccinated against various diseases as children.
"We all grew up with vaccines© When you went to school, you went with a card that showed which vaccines you took© and all of us are what we are because of vaccines. There's no reason for people to fear vaccines. They are meant to help you."
Protection for the vulnerable
Bishop Malusi Mpumlwana, the General Secretary of the SACC, encouraged South Africans to "embrace the gift of God in science".
He added that vaccines are important if the country is to achieve population immunity, which will also protect the most vulnerable in society.
Government aims to inoculate five million senior citizens by the end of June, provided there is enough supply of vaccines.
South Africa's vaccination programme currently uses the Johnson & Johnson (J&J) vaccine and Pfizer vaccine, but citizens cannot choose which vaccine they will receive at this stage.
The J&J vaccine only requires one dose, while the Pfizer vaccine requires two doses.
"When you get vaccinated you will be informed which vaccine you are getting, and if a second dose is needed," explained Minister Mkhize.
He said people will receive the date, time and place of their second dose by SMS or on a card, which will be issued on the day of vaccination if a person does not have a phone.
"Most people will get their first and second doses at the same site."
Pfizer vaccines are safe and work well, even against the variant that is dominant in the country.
"After 14 days, one starts to show markers of immunity. There is now very good literature to show that the interval between doses can be increased to six weeks and, in the United Kingdom, they showed good results after three months."
Government is being advised by experts on the best interval between the doses.
Side effects
Many people have mild symptoms, after vaccination. These include flu-like symptoms like mild fever, headache, tiredness as well as redness, swelling and pain at the injection site.
However, these disappear within a day or two and can be managed at home with rest and paracetamol.
"If you have more serious symptoms such as severe headache, severe abdominal pain or severe limb pain you should phone our COVID-19 hotline, 0800 029 999, for advice or seek care at your local clinic or hospital," said the Minister.
He urged citizens to register for their COVID-19 jab to protect themselves from becoming very sick or dying as a result of COVID-19.
"However, no vaccine works 100% and we also still do not know whether vaccination prevents transmission of the virus. It is therefore still important to follow the standard COVID-19 safety precautions to protect yourself and those around you."
Sisonke Study
Minister Mkhize said 478 733 South Africans were vaccinated under the Sisonke Study that ended recently. This was Phase 1 of the vaccination programme.
Sisonke is a collaboration between various stakeholders, including the Department of Health, which allowed government to make the COVID-19 J&J vaccine immediately available to healthcare workers using a research programme.
The programme received 500 000 doses.
Leftover doses will not be used in the second and third phases of the vaccination programme.
The South African Medical Research Council will use these to conduct studies into how vaccines work for people living with HIV and other comorbidities, elite athletes, pregnant and lactating women, and other special groups.
Phase 1B of the vaccination programme started on 17 May, along with Phase 2. Phase 1B involves the vaccination of the remaining healthcare workers, traditional health practitioners and staff employed at funeral parlours.