Written by Sphelele Ngubane
A government campaign is helping to grow interest in the agricultural sector in Eastern Cape schools.
School children in the Eastern Cape have been encouraged to take an interest in agriculture to help fight hunger.
Speaking at the launch of the School Food Gardens Campaign recently, Minister of Agriculture, Land Reform and Rural Development Thoko Didiza said communities should revive the practice of agriculture in schools and encourage young people to work the land.
As part of the campaign, cooperatives in Peddie, in the Eastern Cape, and two schools – Feni Primary School and Nathaniel Pamla High School – were given garden tools to support their agricultural work.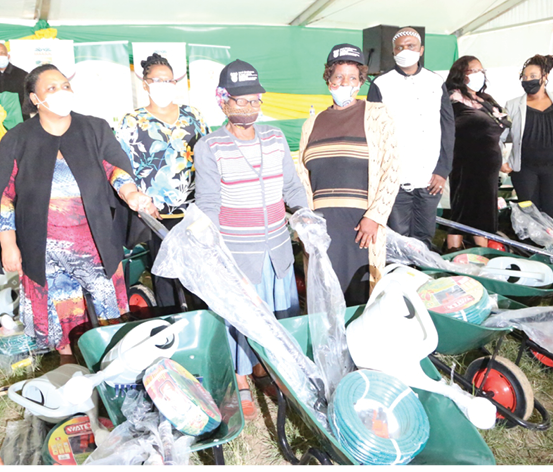 Minister Didiza said the donation will encourage learners to become involved in agriculture and study agriculture further after matric.
"Family members of some of the learners are part of crop-producing initiatives in the community. Having unlimited access to gardening tools is going to help them perfect the art of working the land and producing their food.
"The schools will be able to produce vegetables and meet the state-subsidised nutrition programme," she said.
Donation to impact lives
School governing body member at Nathaniel Pamla High School Nombulelo Saule said the donation will have a huge impact on the school.
"This is going to assist us as we will not need to go to the market to buy vegetables to cook for the children. We are going to plant at school and harvest there to take to the school kitchen."
Yolisa Maramana, a learner at Nathaniel Pamla High School, who wants to study agriculture after matric, said while they are passionate about agriculture, the school's limited resources were bad for their morale.
"The tools that we have been given will be of use to us because we are always in the garden. It's been demotivating because some of the things we were taught in the classroom remained an unproven theory, but with the tools we received today, I believe a lot will change," she said.
The cooperatives, which were given irrigation equipment, shovels, seedlings and wheelbarrows, grow vegetables and sell their produce to local markets.
Nobubele Mkoko from Zamukhanyo Project said the tools will help them maximise their business to help grow the Ngqushwa economy.