written by More Matshediso
The Special Investigating Unit (SIU) has partnered with the South African Institute of Chartered Accountants (SAICA) and the North-West University (NWU) to train a new generation of forensic accountants.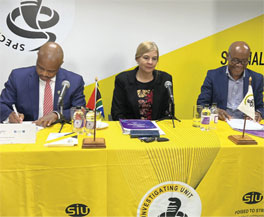 The three institutions recently signed a memorandum of understanding (MoU) that will see them join hands to produce specially trained accountants who will help intensify the fight against fraud and corruption in South Africa.
SIU National Chief Investigations Officer Leonard Lekgetho says forensic accountants assist in identifying fraud by checking if financial statements have been manipulated. "They also prepare financial evidence to prove in court that corruption occurred so that money can be recovered," adds Lekgetho.
In terms of the MoU, a bursary fund has been established through SAICA's Thuthuka Education Upliftment Fund (TEUF) for the training of these forensic accountants.
SIU Senior Manager for Learning and Development Enock Qoma says the aim is to ensure that the unit's provincial offices have the skilled forensic accountants they need to fast track fraud and corruption investigations.
"The bursary will be funded by the SIU to the tune of R10 million," says Qoma.
SIU Chief Human Capital Officer Neptune Masombuka says the formation of the MoU started in 2019, when they learnt that there were only 109 forensic accountants in South Africa.
The training comprises three programmes:
The undergraduate placement, which consists of first-year Bachelor of Commerce (BCom) Forensic Accounting students from the NWU. For the 2022, 2023 and 2024 academic years, 10 students per year will be selected to join the three-year programme. These students will be employed by the SIU after they complete their studies.
The postgraduate placement, which targets six forensic accounting students per year from the NWU. The students will join the SIU at a higher level upon completion of their training.
Work-integrated learning, which will focus on upskilling the current SIU employees who hold BCom qualifications. These employees already know the organisation and have a sound understanding of the investigating methodology. They only require a practical work-integrated programme for six months to advance their skills.
Both undergraduate and postgraduate students have already been selected for the current academic year.
For the 2023 academic year, students should apply to both the NWU (www.studies.nwu.ac.za/studies/apply), for the Forensic Accountancy Programme and the TEUF (www.thuthukabursaryfund.co.za), for funding.
Applications for the bursary will close on 31 August 2022.